Chad Hemenway, PropertyCasualty360.com
About the Author
Chad Hemenway, PropertyCasualty360.com
Chad Hemenway is News Editor for PropertyCasualty360.com. He contributes regularly to National Underwriter Property & Casualty magazine. Chad has been a journalist, working at weekly and daily publications, since 2000 and has been covering insurance news since 2007. Prior to National Underwriter, he worked at A.M. Best Co. Chad has experience writing about all lines of P&C insurance as well as regulation and litigation. He may be reached at chemenway@summitpronets.com and followed on Twitter @CTHemenway.
Resource Center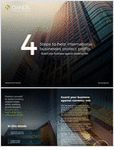 Follow these 4 steps to help protect profit and avoid currency related losses while doing...
T&R Express
T&R Express delivers coverage of developing stories and the latest studies on trends in finance & treasury – FREE. Sign up now.