Beth Bombara says her four years as controller of the Hartford Financial Services Group break down into "two distinct time periods." It's easy to see why.
"I came into the position in 2007," recalls Bombara, who was promoted from deputy controller and vice president to controller and senior vice president "just in time for the financial crisis" of 2008.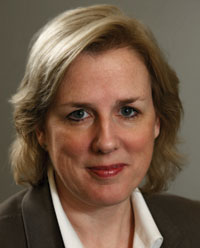 That put her at ground zero of the insurance company's initial response to the crisis—as experts worried that the whole financial system was tumbling down—and then through the Hartford's efforts to deploy the $3.4 billion in Troubled Asset Relief Program (TARP) funds it accessed, deal with the program's myriad compliance aspects, and ultimately repay the TARP funds.
"It was like my team and I were on a giant treadmill, with someone else controlling the speed, and we were just trying to keep up," Bombara recalls.
In that tense and fast-changing environment, Bombara says, her role as controller was to prepare all of the company's financial information. That included "a lot of financial projections," which had to include analyses of "what things would look like in different scenarios," she says. Then too, there were multiple constituencies. "We had to have conversations with regulators and with investors," she explains.
Part two of Bombara's tenure began in March 2010, after the Hartford paid back the TARP funds.
"At that point, the controller job was about moving forward," she says. "Now we in the finance group are looking at transformational change."
Among the changes: The Hartford, which suffered from its heavy involvement in the business of variable annuities, an area that was hit hard by the stock market crash, is reportedly moving away from such risky product lines. The company, with $22.4 billion in 2010 revenue, now is focusing on three broad areas: consumer insurance markets, commercial markets and wealth management.
Bombara says the Hartford's multiple lines of insurance "used to operate as silos." Now, "we're operating as an enterprise," she says. Her department is busy implementing a "common enterprise planning and forecasting tool," which she says "will allow for more integrated planning." Bombara is also implementing a "common enterprises expense management tool" and consolidating functions such as external reporting, planning and expense management across the enterprise "to drive consistency and efficiency."
"I still feel like we're on a treadmill," she concedes with a laugh, "but now we are controlling the speed."
Bombara, whose responsibilities include corporate finance, accounting policy, IT finance, and Hartford Investment Management Co., lists attracting and retaining key talent as one of the challenges going forward and says developing talent is an important focus for her.
"When I look across the finance organization," Bombara says, "I feel good about the talent pool in terms of both men and women." There are, she says, many skilled women moving up in the ranks of corporate finance.
Bombara joined the Hartford in 2004 from Deloitte & Touche, where she had been working as a senior manager in the audit practice. She holds a bachelor's degree in business administration from Bryant University.
See the complete coverage of Treasury & Risk's 2011 Women in Finance list here.