The U.S. is accelerating and China is cooling, marking a reversal of trends that followed the financial crisis. As a result, oil is slumping as American supply rises and Chinese demand falls, capital is fleeing emerging markets, the dollar is surging, and the influence of the BRICs is on the wane.
While the biggest losers comprise commodity producers and emerging markets, Russia's Vladimir Putin is proving the most exposed. His economy is headed for recession as the plunge in crude and the ruble deepen the impact of sanctions stemming from his aggressiveness in Ukraine.
"The shifts we're seeing in the global economy show the potential for unintended consequences and unforeseen tensions," said Lena Komileva, chief economist at G Plus Economics Ltd. in London. "Emerging-market vulnerability, headlined by Russia's crisis, could trigger more safe haven flows."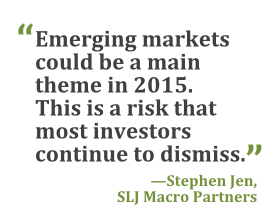 A strengthening U.S. and slower China once topped the wish list of international policy makers, who repeatedly expressed concern that America was stagnating and China was overheating in the aftermath of 2009's international recession.
Their hopes are now being realized. China is on course in 2014 to grow the least since 1990, as a slowdown in real-estate investment continues and factories are shuttered.
Meanwhile, the U.S is gathering momentum, with economists surveyed by Bloomberg News betting on a 2.9 percent expansion next year, the fastest in a decade, as hiring accelerates and falling gasoline prices boost purchasing power. Tomorrow, the Federal Reserve may move closer to raising interest rates for the first time since 2006.
"The deeper fundamental cause of all this is the prospect of a normalization of U.S. monetary policy: Higher U.S. interest rates are causing the rate advantage of risky assets to melt," said Ulrich Leuchtmann, a currency strategist at Commerzbank AG in Frankfurt.
A monthly survey by Bank of America Merrill Lynch today showed fund managers increasingly favor the dollar and cash over risky assets and commodities.
Exhibit A for the new order is the price of oil, which has fallen about 45 percent this year in part because of weaker Chinese demand and a supply glut deepened by U.S. shale output. U.S. production has risen to 9.12 million barrels a day, the most in weekly Energy Information Administration data that started in January 1983.
Boosting Consumers
Economists reckon the transfer of cash from energy producers to consumers is enough to boost the world economy. Berenberg Bank in London estimates current oil prices could boost demand by 1.5 percent of gross domestic product in major economies in the next four to six quarters.
The results are nevertheless uneven. In a study of 44 nations, Oxford Economics Ltd. listed Russia, Saudi Arabia, Norway, Italy, and the Netherlands among the biggest losers from cheaper crude; winners include the Philippines, China, India, and Indonesia.
Money is flooding back into the U.S. as the dollar gains and in anticipation of higher interest rates. The greenback has jumped 9 percent on a trade-weighted basis this year.
"The corollary of a stronger dollar has been weakness in emerging markets," said John Chatfeild-Roberts of Jupiter Asset Management Ltd. in London. As the dollar "appreciates so does the local currency size of their debt burden and interest payments, which is, of course, financially very painful."
In warning about the potential cost of a surging dollar, the Bank for International Settlements this month noted that international banks have loaned US$3.1 trillion to non-financial companies in emerging markets, mainly in dollars, and that such nations have issued $2.6 trillion in foreign-denominated debt.
Societe Generale SA economist Jason Daw identifies the currencies of Indonesia, Turkey, and Mexico as the most vulnerable to reversals. South Africa, Hungary, China, and Chile also need to be watched, he said.
While a rising dollar could help beat back disinflation globally by enriching export-hungry U.S. consumers, currency strategists at HSBC Holdings Plc last week warned extreme strength would be a problem if Japan lost control of a weakening yen, a sliding euro raised fears of a breakup of the single currency, or China tried to devalue the yuan.
China's slowdown also threatens repercussions internationally after its emergence as a powerhouse economy in the past decade turned it into the world's biggest consumer of automobiles and commodities including copper and oil.
BRIC Doubts
A report earlier this year by Craig Botham, an emerging-market economist at Schroder Investment Management Ltd., cited South Korea, Malaysia, Vietnam, Thailand, and Chile as the countries which export the most to China as a share of their GDP.
Taken together, a stronger dollar, weaker oil, and capital-flight perhaps pose the biggest threat to Russia, the world's largest oil exporter, which is sinking into recession nine months after Putin invaded Ukraine's Crimea peninsula. Already deprived of oil riches, the ruble lost almost a fifth of its value against the dollar today even after a surprise interest rate increase by the central bank.
The rout in emerging markets has some harking back to 1998, when a tailspin in developing economies threatened to spread before the Fed cut interest rates. These days, emerging markets boast more flexible currencies and bigger foreign reserves.
Still, Stephen Jen, the co-founder of SLJ Macro Partners LLP in London, says the love affair for the BRIC nations—Brazil, Russia, India, and China—is over as economists pencil in the weakest growth since 2009 for the group next year.
Outside that bloc, Venezuela is the subject of default speculation, Indonesia's rupiah is around its weakest since Asia's financial crisis, and there is political and financial instability from Argentina to Turkey.
Investors withdrew more than $2.5 billion from U.S. exchange-traded funds that buy emerging-market stocks and bonds last week, the biggest outflow since January. An index tracking 20 emerging-market currencies also fell to the lowest level in more than a decade today
"Emerging markets could be a main theme in 2015," said Jen. "This is a risk that most investors continue to dismiss."