Federal Reserve Chair Janet Yellen said interest rates will probably be raised in 2015 and made the case for a cautious approach to subsequent increases that will keep borrowing costs low for years to come.
In a speech in San Francisco on Friday, she emphasized that the coming tightening cycle will be unlike any other in recent times, as the U.S. economy continues to heal from the worst recession since the Great Depression.
"The actual path of policy will evolve as economic conditions evolve, and policy tightening could speed up, slow down, pause, or even reverse course depending on actual and expected developments in real activity and inflation," she told a conference hosted by the San Francisco Fed.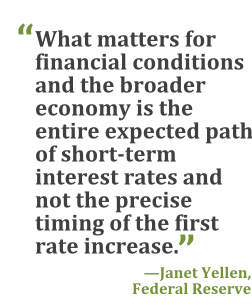 Yellen said strong gains in labor markets are a sign that the multiple restraints on the post-recession economy are slowly abating, and that means the benchmark interest rate should rise. Fed officials have kept the rate at zero since December 2008, and opened the door to an increase as early as June at their meeting this month.
"I expect that conditions may warrant an increase in the federal funds rate target sometime this year," Yellen said.
Yet unlike previous tightening cycles, when rates followed a predictable, stair-step pattern, Yellen cited several reasons for being responsive to incoming data and for paying heightened attention to "special risks."
Yellen also played down the importance of when the Fed finally raises rates for the first time in nine years, a subject of considerable speculation among analysts and investors.
"What matters for financial conditions and the broader economy is the entire expected path of short-term interest rates and not the precise timing of the first rate increase," she said.
Treasuries remained higher after Yellen's speech and a report earlier in the day showing the economic expansion in the fourth quarter was weaker than forecast. The 10-year yield fell three basis points, or 0.03 percentage point, to 1.96 percent at 4:59 p.m. in New York.
Yellen's speech, which was more comprehensive in its description of policy strategy than her press conference on March 18, underscored what will define the Yellen chairmanship: A delicate exit from the most aggressive easing in the Fed's 100-year history.
"The return of the federal funds rate to a more normal level is likely to be gradual," she said.
In previous tightening cycles, Fed officials "had a lot of faith in relationships that seemingly held for long periods of time," said Guy Berger, U.S. economist for RBS Securities Inc. in Stamford, Connecticut.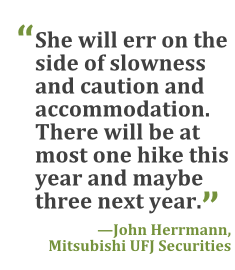 Fed officials understood that if labor and other productive resources were in short supply as the economy heated up, inflation would eventually rise.
This time, the Federal Open Market Committee "is saying, wait a second, we're not nearly as confident in our understanding of the world or economic mechanisms than we were back then, and if the mechanisms turn out to be a little different, or very different, than what we currently assume, we are going to have to calibrate policy accordingly," he said.
Yellen spent the bottom third of her speech talking about the risks of moving too fast or putting policy on auto-pilot.
She cited the cases of central banks in Sweden and Japan that tightened too soon in their recoveries, resulting in disinflation and "appreciable economic costs."
Risk of Zero
Keeping interest rates lower for longer would give the economy the momentum it needs to insure against the risk of having to cut rates back to zero if growth faltered, she said.
Finally, she said, the Fed has missed its 2 percent inflation target for almost three years. A "prompt" return to that target could be "advanced by allowing the unemployment rate to decline for a time somewhat below estimates of its longer-run sustainable level."
"The path of interest rate hikes will be haltingly slow," said John Herrmann, director of U.S. rate strategy at Mitsubishi UFJ Securities USA Inc. in New York. "She will err on the side of slowness and caution and accommodation. There will be at most maybe one hike this year and maybe three next year."
–With assistance from Jeff Kearns in Washington, Steve Matthews in Atlanta and Matthew Boesler in New York.