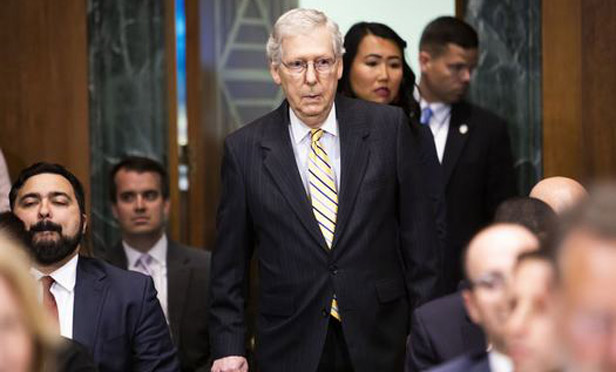 The Senate "will not leave until we've passed another bill," Senate Majority Leader Mitch McConnell said Tuesday afternoon, stating that Senate Republicans and the Trump administration are "going to try and reach an agreement on phase three" of a coronavirus stimulus package.
McConnell, R-Ky., noted that the Senate "finally got a completed bill from the House" Tuesday, referring to H.R. 6201, the Families First Coronavirus Response Act, which, among other measures, offers free coronavirus testing, by and large, for everyone in the United States, along with increased food aid.
McConnell said the Senate will pass the House bill "as is," without amendments. "I've decided we'll vote on the House bill and send it to the president, to show we can operate on a bicameral, bipartisan basis."
In comments on the Senate floor Wednesday morning, McConnell encouraged senators to "vote and exit the chamber" during the full 30-minute roll call vote to be held later in the day. "Be aware of the social distancing," he said. "I think we'll be able to get through the vote later today without violating any of the safety precautions."
McConnell stated that he has created three task forces among Senate Republicans to come up with the next bill.
The Hill reported Wednesday, however, that negotiations over a third bill have hit a snag.
"Republicans disagree over fundamental questions such as whether to make direct payments to Americans who miss paychecks because of the crisis or to all adults in a bid to boost the economy more generally," The Hill reported.
Republicans are "also split on whether economic aid should be delivered primarily through unemployment benefits for workers who miss time or lose their jobs, or whether economic aid should go directly to businesses in the form of loans or payroll tax reductions," The Hill reported.
Treasury Secretary Steve Mnuchin stated during a Tuesday media briefing that while President Donald Trump "likes the idea of payroll tax holiday … we're looking at sending checks to Americans immediately. Americans needs cash now, in the next two weeks."
How much? "I'll be previewing that with Republicans. There are some numbers out there; they may be a little bit bigger than what's in the press," Mnuchin said.
The administration's Coronavirus Task Force plans to hold a press briefing at 11:30 a.m. on Wednesday.
From: ThinkAdvisor