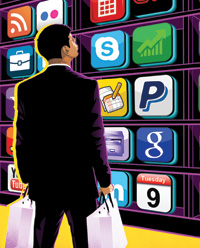 Enterprise use of smart phones and tablets is exploding, but letting employees buy applications on their own from the iTunes or Android app stores can become a logistical and security nightmare. Instead, companies are setting up their own stores so they can centralize app procurement; automatically provision and de-provision software; and even distribute their own custom-made apps to employees.
Merit Medical Systems, a Utah manufacturer, began looking at mobile technology a couple of years ago to improve collaboration and training for its sales and marketing staff. At first, it used Web-based tools, which don't require downloading apps, by creating a single sign-on portal for its mobile users with technology from Boulder, Colo.-based Symplified.
"But if users need access if they lose their Internet connections, they need to go the native app route," says Lincoln Cannon, Merit's director of sales and marketing technology.
Merit is evaluating mobile application management vendors, in particular San Francisco-based AppCentral, which lets companies deploy custom apps as well as those from outside vendors. Other providers include Apperian, MobileIron, Partnerpedia and Rhomobile.
AppCentral lets companies decide which users get which apps, what measures are used to secure the apps and whether they're encrypted.
Rather than using a vendor, companies can get a developer license from Apple and deploy applications on their own. But that approach involves some risks.
Each custom app for iPhones or iPads requires its own credential from Apple, and credentials have a life span of one year, says AppCentral CEO Ken Singer. Once they expire, the app stops working. Platforms like AppCentral keep track of credentials and renew them to ensure there's no disruption in service. AppCentral also lets companies manage apps even if they're installed on employees' personal devices.
"We have a technology that stays with the application," Singer says. "It lets you update the app remotely, you can pull back the authorization for use, lock the application, or wipe the data inside the application."
Finally, companies can purchase bulk licenses for third-party apps, and when an employee leaves the company, transfer that license to the next hire—at least, for Android apps.
Companies often get bulk discounts on software purchases, Singer says. "When you have people downloading apps from an iTunes store and expensing those apps, that's a big problem. The cost of managing a $1.99 app can be really high."
Apple requires that third-party apps be bought directly from its iTunes store, although private app stores can gather apps and organize them for users. For now, at least, only apps that are custom-developed for a company can be sold outside of iTunes.
For a look at the apps that global banks are providing to their customers, see Mobile Banking Gains Momentum.