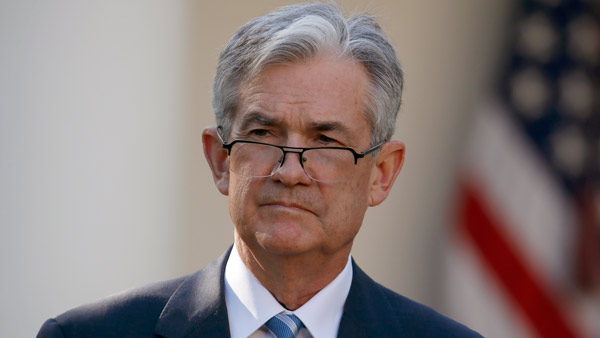 The Federal Reserve cut its benchmark interest rate late Sunday by a full percentage point, to almost zero, and pledged a return to quantitative easing via the purchase of at least $700 billion in Treasury and mortgage bonds in response to continued economic fallout tied to the coronavirus.
The central bank also said banks can borrow from the discount window for up to 90 days, and reserve requirement ratios have dropped to 0 percent.
S&P 500 futures fell 5 percent shortly after the announcement, while Dow Jones Industrial Average futures fell 4.5 percent.
In an announcement that came three days ahead of the Fed's next planned meeting (which has now been canceled)—and one day after President Donald Trump said he had the power to demote or even dismiss Chairman Jerome Powell—the Federal Open Market Committee (FOMC) lowered the target range for the federal funds rate to 0 to 0.25 percent.
The FOMC said it expects to keep this target range in place "until it is confident that the economy has weathered recent events and is on track to achieve its maximum employment and price-stability goals," according to a statement read by Powell.
The Fed also said it would keep dollars available worldwide via "swap line arrangements" in cooperation with the Bank of Canada, Bank of England, Bank of Japan, European Central Bank, and Swiss National Bank.
"Fed just went to zero on Funds and massively ramped up QE4," Tweeted Jeffrey Gundlach, CEO of DoubleLine Capital.
"In other news … Goldman cut Q2 GDP to -5%," said Jim Bianco, president and CEO of Bianco Research, in a tweet about the U.S. economy before Powell spoke publicly about the Fed's surprise moves.
Powell, speaking after a news conference, said that U.S. economic activity is "going to be lower for a period of time," given the drop in travel, leisure, hospitality, and other industries. That, he added, "means in the present quarter it is going to be weak."
When asked about the Fed's current view of negative interest rates, "We do not see negative policy rates as an appropriate policy response" in the U.S., Powell replied.
Fed Details
The Fed said it would increase its holdings of Treasury securities by at least $500 billion and its holdings of agency mortgage-backed securities by at least $200 billion.
In addition, it said it would reinvest principal payments from the Federal Reserve's holdings of agency debt and from agency mortgage-backed securities in agency mortgage-backed securities.
"The Federal Reserve is prepared to use its full range of tools to support the flow of credit to households and businesses—and thereby promote its maximum employment and price stability goals," Powell explained in a statement.
The Fed moved less than two weeks ago to cut rates by 0.5 percent.
From: ThinkAdvisor