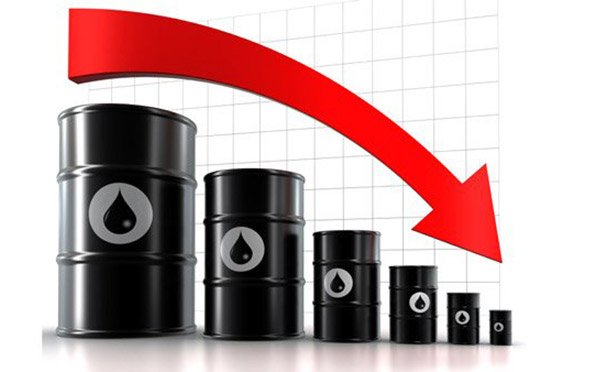 Financial markets reeling from the impact of the Covid-19 experienced another first today: U.S. oil prices below zero.
It happened in the oil futures market, where the current contract for May expires on Tuesday. Investors holding long positions in the contract must take physical delivery of the oil unless they can roll the May contract over to June, but that was almost impossible to do on Monday. There were no buyers for the May contract because there is nowhere to store the oil. The West Texas Intermediate (WTI) May futures contract closed at $-37.63 a barrel.
Owners of May oil futures contracts had "to sell down to the next level, to whatever someone is willing to pay," explained Ron Lawson, managing director of Logic Advisors, which provides strategic and tactical macroeconomic guidance to major participants in the world's commodity markets. The owners of the May oil contract include exchange-traded funds (ETFs) that "own futures to mirror the price of crude," said Lawson.
Storage capacity in the U.S. is full because demand for oil has fallen sharply due to Covid-19–related restrictions on travel and entertainment and because many fracking operators continue to pump since they would lose money if they stopped and restarted again later, explained Lawson.
"Many oil players that would normally be buying and storing oil are not," explained John LaForge, head of real asset strategy for Wells Fargo Investment Institute. He expects "the world will be awash in oil for the next few months" but notes that U.S. oil prices, aside from the May futures contract, are much higher—closer to $20 a barrel. And Brent crude, from the North Sea, is near $25. Both of these prices are "a better indicator of where oil is really trading at."
Stocks posted losses Monday after gains for much of last week.
The Dow Jones Industrial Average, probably the most sensitive index to oil price movements, finished down 596 points, or 2.5 percent, while the S&P 500 ended Monday's session off 1.8 percent and the Nasdaq was down 1 percent.
From: ThinkAdvisor