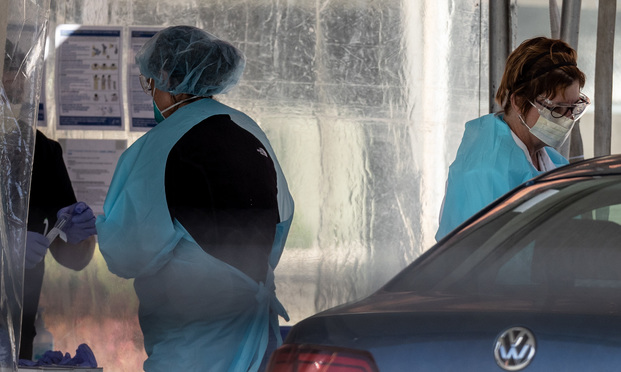 The Open Covid Pledge has added a big group of tech heavy hitters. IBM Corp., Microsoft Corp., Amazon.com Inc., Facebook Inc., Hewlett Packard Enterprise Co., and Sandia National Laboratories have pledged free use of their intellectual property (IP) to fight Covid-19 during the pandemic, joining a growing list of tech companies and academic and research institutions.
The new members collectively hold hundreds of thousands of patents and are offering to grant a temporary license that will allow the public to use them "in the research, development, and deployment of medical equipment, network products, software solutions, and other technologies to assist in this urgent public health crisis," the organizers of the Open Covid Pledge said in a written statement Monday.
The organizers also have adopted a second, streamed-down version of the original Open Covid License. "We wanted to offer alternatives for people for whom it made sense to pledge only part of a multi-technology portfolio," said Stanford Law professor Mark Lemley, one of the organizers of the initiative.
The tech titans who signed up Monday are pledging all of their IP, according to the organizers.
"We are always looking for ways we can use our patents to contribute to positive outcomes, and the fight against Covid-19 is one of the most urgent issues of our time," Microsoft's chief IP counsel, Jennifer Yokoyama, wrote on a Microsoft blog. "Researchers, scientists, and others working to fight the virus should be able to develop and deploy effective solutions at scale without obstacles such as being threatened with patent litigation."
IBM's portfolio includes patents that cover antiviral agents active against Dengue, H1N1, SARS, influenza, and coronaviruses, as well as algorithms for predicting the time and range of events, including epidemics. "IBM's pledge will last for the life of our more than 80,000 patents and patent applications, and any new patent applications filed through the end of 2023 will likewise be covered by this commitment," the company's assistant general counsel for IP, Mark Ringes, announced on IBM's research blog.
"In times like these, cooperation is more important than competition," Hewlett Packard's chief IP officer, Brett Alten, wrote on his company's blog. Researchers around the world are already using HPE's supercomputing and artificial intelligence (AI) technologies to advance diagnosis or treatment; Wi-Fi and location services for establishing pop-up clinics and hospitals; and cryo-electron microscopy, according to Alten. With the Open Covid Pledge, "They are free to use and combine HPE technologies with their own technologies to create breakthrough solutions to combat Covid-19."
The Open Covid Pledge was launched a few weeks ago by an international coalition of legal experts, scientists, and technologists. The goal is to encourage companies, universities, and researchers to make their intellectual property available free of charge for use in ending the Covid-19 pandemic and minimizing the impact of the disease.
"Amazon, Facebook, HPE, IBM, Microsoft, and Sandia National Laboratories are demonstrating their vision and leadership by putting global health first," Jorge Contreras, professor of law at the University of Utah and one of the authors of the Open Covid Pledge, said in a written statement. "They are granting free and legal access to their patents to empower those addressing this pandemic to create and implement life-saving tools and technology."
Among those who've previously implemented or endorsed the pledge are Intel Corp., Fabricatorz Foundation, Unified Patents, Creative Commons, Mozilla, DLA Piper, Stanford Law School, University of Utah law school, and the Montreal Neurological Institute-Hospital.
The pledge offers a template for granting a royalty-free license "for the sole purpose of ending the 'Covid-19 Pandemic' (as defined by the World Health Organization, 'WHO') and minimizing the impact of the disease, including without limitation the diagnosis, prevention, containment, and treatment of the Covid-19 Pandemic." The license is effective Dec. 1, 2019, and lasts until one year after WHO declares the pandemic ended.
Meanwhile, Open Covid on Friday unveiled a more streamlined license that excises the phrase "and minimizing the impact of the disease."
Foley & Lardner partner Stephen Maebius said in an interview prior to the new developments that he applauds the Open Covid effort, which he thinks will be especially beneficial for combinations of technologies supplied by different outfits. As as an attorney whose practice includes licensing, though, he said the potential breadth of the "minimizing the impact of the disease" language might have given him some pause.
Maebius said he also could imagine some debate over what "Covid-19" means, since multiple strains of the virus have been identified and future mutations are possible. There's also uncertainty around when the pandemic will be declared "ended." Pledgors might specify when WHO declares it over "or no later than X date" and then reconsider that hard date as appropriate. "That way you retain some control," he said.
From: The Recorder