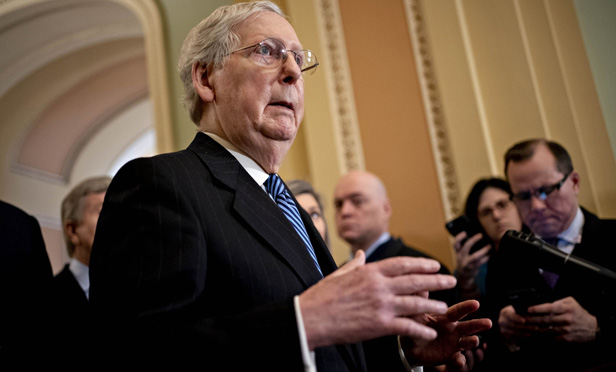 Senate Majority Leader Mitch McConnell said Wednesday that states weighed down by pension costs, expensive Covid-19 programs, and more— like California, Connecticut, and Illinois— should be allowed to declare bankruptcy instead of getting a federal bailout.
"I would certainly be in favor of allowing states to use the bankruptcy route," he said on the syndicated Hugh Hewitt radio show, which Bloomberg news confirmed. "It's saved some cities, and there's no good reason for it not to be available.
"There's not going to be any desire on the Republican side to bail out state pensions by borrowing money from future generations," McConnell said.
States cannot declare bankruptcy under current law, as Federal Reserve watcher Danielle DiMartino Booth pointed out on Twitter: "While I don't dispute the spirit of his statement, at last check, state bankruptcy is un-Constitutional."
House Speaker Nancy Pelosi said a "major package" of support for state and local governments will be included in the next stimulus legislation to be reviewed by Congress, according to an interview on Bloomberg Television Wednesday.
In addition, President Donald Trump said Tuesday that states are in need of further aid: "'And I think most Republicans agree too, and Democrats. And that's part of phase four,'" Bloomberg reported.
But McConnell pushed back on extra relief in the latest rescue plan, which passed the Senate on Tuesday and is expected to get a House vote Thursday.
"I said yesterday we're going to push the pause button here, because I think this whole business of additional assistance for state and local governments needs to be thoroughly evaluated," McConnell said.
If some states file for bankruptcy, the bond market could be up-ended, and other states might see their interest rates rise; such concerns come as states request about $500 billion in aid and cities and counties roughly $250 billion, according to Bloomberg.
From: ThinkAdvisor