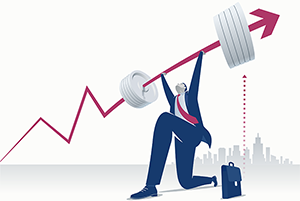 The Hackett Group's "Rapid Cash Release Framework," below, consists of three phases: optimizing cash visibility, defining the targets, and executing the plan.
Each phase should take approximately two weeks. Thus, the framework represents a six-week program for rapidly releasing cash tied up in working capital and maximizing current credit and financing opportunities.
---
Baseline position—cash visibility
Goal: Collect transactional data to benchmark against peers, and measure performance of the company's payment terms in comparison with peer organizations.
Review and assess interest rate impacts, including adjustment to cash vs. cost strategy.
Benchmark terms by supplier spend and customer category to measure performance.
Review customer and supplier risk profiles/creditworthiness.
Perform segmentation across payables, receivables, and inventory.
Conduct rapid inventory review (e.g., excess inventories by stock-keeping unit—SKU—and slow-moving and obsolete inventories).
Map and gap—define the targets
Goal: Identify priority payments and critical suppliers, customers, and drivers. In other words, map the leverage within your financial supply chains.
Evaluate your debt, assess your capital structure, and model different financing/interest rate scenarios.
Map the prospective impacts of available financing solutions (e.g., debt factoring) and supply-chain finance options.
Evaluate credit terms, and negotiate the best terms that are also reasonable enough to not severely impact your trading partners.
Map business-critical suppliers that should receive priority in accounts payable (A/P) workflows.
Quantify the impacts of inventory factors on cash flows, including inflated buffer stocks, demand plan errors, and slow-moving inventories.
Model the immediate tradeoffs and possible negotiation tactics that could accelerate payments across your accounts receivable (A/R) portfolio.
Execute the plan—pull the levers
Goal: Launch a cross-functional team to execute near-term and midterm cash conversion cycle goals.
Launch teams to halt terms leakage, and to accelerate resolution of high-value unbilled receivables and invoice disputes to drive immediate payment.
Accelerate funding and liquidity products to achieve strategic goals.
Develop a daily forecast and visibility by understanding variance analysis across business line/product by geography.
Establish a team rhythm for continuously monitoring A/R, A/P, and inventory metrics.
---
Sidebar to: