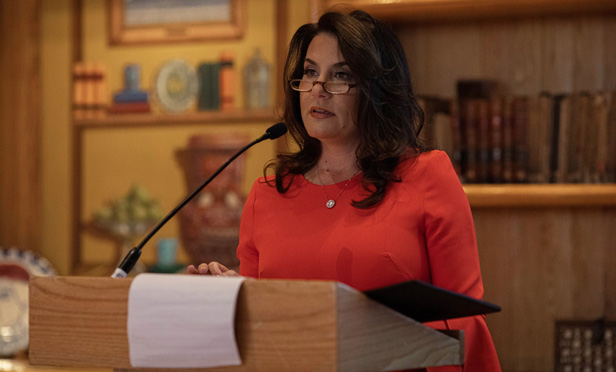 "The Federal Reserve is stuck in the middle," said Danielle DiMartino Booth, CEO and chief strategist of Quill Intelligence and a former advisor to the Federal Reserve. Speaking about Fed Chairman Jerome Powell on a Hedgeye webcast Thursday, she explained: "He wants to print more money, because he wants to put it into the hands of the lowest third of income earners."
Powell also "wants to keep his facilities open that violate the Federal Reserve Act and buy junk bonds, because he wants to keep Wall Street happy," DiMartino Booth said. "So, he wants to keep the wealthiest happy, and he wants to print money to give to the lowest-income earners in the economy. He cannot print jobs in the middle, and that is the problem," she explained.
"He can't print jobs. He can't print cash flow. And he can't print these small businesses back into business that the PPP [Paycheck Protection Program] failed," the Fed critic said. Powell "practically begged" for stimulus legislation to be passed by Congress during his appearance on the CBS show "60 Minutes" this past Sunday, she added.
He "can't get enough traction because we're getting closer and closer to Election Day," and neither Republicans nor Democrats want to give in to the other side when it comes to new stimulus dollars, DiMartino Booth explained.
Powell's Blind Spots
Powell's "naivete right now is very dangerous," she said, pointing to his support for the expanded Main Street Lending Program. The private equity firms that lobbied for it "were trying to make sure that the companies that pay them dividends didn't have to go out of business," the Fed expert said.
"Powell thinks that he's keeping those employees employed," she explained. "But what he's really doing is bailing out the big private equity guys, so that they can continue to pay themselves one-time dividends [and] load these companies up with debt and make them that much more dangerous."
When this situation deteriorates much further, "there is no Chapter 11 route," DiMartino Booth said. "They're just going to have to liquidate."
It's not the high numbers of Americans who've filed for unemployment insurance that's so concerning, it's the fact that those high numbers have continued for so many weeks now, she explained. The number of Americans who've filed for unemployment during the pandemic has now reached about 40 million, according to the Fed critic.
"Twenty-eight percent of the U.S. workforce has applied for unemployment insurance," she explained. "What I'm following more closely is the persistence. So if we're nine weeks into this and we're still seeing initial claims coming in at these levels, then you are cutting into the bone at this point."
There are already signs that this is no longer just the "first wave" of job losses in the most vulnerable sectors anymore, she noted: "This is not leisure and hospitality. These are not restaurants." The job losses at this point are coming from other areas of the economy instead, DiMartino Booth said, giving the example of the plan by Victoria's Secret to close 25 percent of its stores.
"That's permanent, so you're starting to see permanence permeate" among the job losses now, she said, predicting there will be more to come. "We have yet to see what is building, which is the white-collar wave of layoffs."
Plus, by late June, the eight-week forgiveness period for the Paycheck Protection Program "expires for the people who were the first recipients. So you'll have another wave, beginning in July, of people who are going to fall off of that program," DiMarino Booth explained.
She predicted that many smaller businesses likely will say they've kept people on the payroll as long as they could and will have no choice but to start cutting headcount. One result of these massive job losses will be a "cultural shift," she predicted, in which "excess is going to be frowned upon going forward because there are going to be so many people in need."
Election Predictions
During the webcast, Hedgeye CEO Keith McCullough said he thinks Donald Trump's "odds of winning have dropped pretty significantly," in part because Trump is losing the support of many millennials. After all, "it's the first time they've been fired," the executive said.
However, the stock market "rebounding is really good for" Trump's reelection chances, according to DiMartino Booth said.
Still, she predicted that if the stock market drops before the election "and if there's not a V-shaped recovery, specifically in the labor market, his chances of winning re-election are definitely falling, and falling fast."
This concern is "why he is reopening, against the advice of some of his scientific advisers," DiMartino Booth said. "He wants to get this economy back up and running in time for the election."
There's one issue that puts incumbents out of office historically, going back to 1900, she explained, "and that is if there's been an appreciable increase in the unemployment rate in the year of the November election."
In addition, the Fed expert predicted, "Higher taxes are a true reality. They are coming, and they are coming fast. And in many forms. That is something we have to contend with" as the U.S. government looks for a way to pay off the money it's spending now as part of its stimulus efforts.
From: ThinkAdvisor