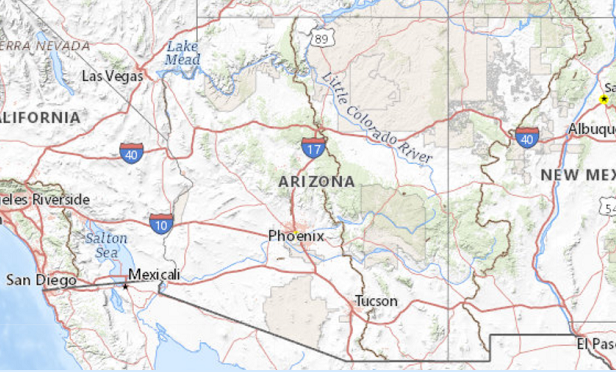 The U.S. Centers for Disease Control and Prevention (CDC) put out a U.S. state map Friday which shows that, for the week ending June 6, community-level Covid-19 activity was low in all 50 states and the District of Columbia. The national hospitalization indicator numbers and the national death numbers were high but also heading in the right direction.
The United States looked as if it could be well on its way toward pushing the virus that causes Covid-19 into oblivion.
But now public health officials in four states, and especially Arizona, are warning that new case counts are spiking and hospitals are running out of intensive care unit (ICU) beds. They say that patients are filling 82 percent of ICU beds, up from 60 percent in early April.
Finance professionals with an interest in getting brick-and-mortar offices back open may be wondering why the official CDC map of Arizona's Covid-19 status is a deep, healthy green, while the headlines seem to be flashing bright red. Here are seven possible explanations (aside from politics, and the machinations of Conspiracy Gremlins lurking in a giant windowless building somewhere) for the confusion.
1. Some places are doing a lot better than others right now.
Aggressive social distancing rules have helped pull the number of new cases in some former hot zones, like Massachusetts and New York, down to much lower levels, and that makes the national numbers look much better.
Many states in the South and the West, in contrast, are reporting increases in new case counts. That could be partly due to officials' decisions to loosen or end infection-control quarantines; partly due to individuals' decisions to get out and mingle; and partly due to the gradual, inexorable spread of the virus from where it first entered the United States to other places.
2. Some places have ramped up testing faster than others.
States that are doing a better job of handling Covid-19 may look as if they are doing worse because they're testing more residents and discovering more mild cases.
3. Some information sources are fresher than others.
The latest weekly CDC report, for example, includes data through June 6, but officials note that some states takes longer than others to send in data, and processing some types of incoming data takes longer than others.
If an outbreak flares up in just two or three days, the "latest weekly figures" could have nothing to do with the current situation on the ground.
---
Additional resources:
---
4. Everyone reports the Covid-19 numbers in a different format.
Even within Arizona, for example, the county where Phoenix is located—Maricopa County—uses a completely different format from Pima County, where Tucson is located.
5. Different legs of the same statistical elephant mean different things.
One of the most commonly cited statistics is the number of new confirmed cases of Covid-19. That statistic is highly sensitive to how easily people can get Covid-19 tests. In Arizona, for example, the state began making tests readily available in early May. The number of new confirmed cases reported each day in Maricopa County doubled.
Hospitalization numbers may give observers a better sense of how many people are really sick with Covid-19, and not simply suffering from an unusually bad cold.
But in Maricopa County, officials note that there's a 10-day reporting lag for hospitalized patients' Covid-19 tests. The number of hospitalized patients could also be affected by the number of beds available. If too few beds are available, doctors could start telling very sick patients to stay home.
6. The typical incubation period for the virus that causes Covid-19 is about 10 days, and can be as long as three weeks.
One reason that public health officials have pushed for such tough lockdown rules is that trying to control Covid-19 is like trying to steer a giant cruise ship that takes 10 days to respond to the turn of the tiller. Or like being a new skiier standing on a top of a mountain, thinking a little motion is nothing to worry about, and then suddenly accelerating and hurtling into a tree.
Public health officials' perspective is that if they wait till they know what's really going on before imposing quarantines or other infection-control measures, then they'll already be on track to smash into a tree.
Many of the people now entering the hospital with Covid-19 in Phoenix caught the virus around Memorial Day weekend.
Arizona is not requiring people to wear masks in public, and news organizations are reporting that Phoenix bars and clubs are full of people, with few wearing masks. Public health officials assume that this is likely to lead to bad outcomes. But there are no guarantees.
If people in bars in Arizona are social distancing better than observers realize, or if something else about the nature of Covid-19 in Arizona slows the spread of the virus, the number of Arizona residents with serious cases of Covid-19 in July could be lower than officials fear.
7. Doctors and hospitals find that Covid-19 numbers creep up on them and cause crises sooner than expected.
In theory, most Arizona hospitals still have some excess capacity: Eighteen percent of their ICU beds were still available as of Sunday, and hospitals were implementing plans to increase their surge capacity by adding extra emergency beds. Moreover, about 63 percent of Arizona's ventilators were still available.
But some hospitals have talked about the threat of running out of Covid-19 testing supplies. Even if the flow of new patients is just high, not catastrophic, and the availability of most resources is good, lack of testing supplies could lead to some patients staying in the hospital longer than necessary. Even an ordinary flow of new patients might use up all the hospital beds.
Another issue is that a ventilator is harder to provide than a regular hospital bed, and extracorporeal membrane oxygenation (ECMO) services, which help Covid-19 pneumonia patients recover from clogged lungs, are harder to provide than regular ventilator services.
Banner Health, a large Arizona hospital company, said in a tweet last Wednesday that the number of patients with Covid-19 using ventilators in its hospitals had increased to 117 by June 8, up from 27 on May 15, and that the company's hospitals were providing all the ECMO services they could.
A situation like that could leave doctors and hospitals facing difficult questions about how to allocate life-saving resources, even as some Covid-19 outbreak indicators look good.
Maricopa County officials themselves say, in the interpretive notes accompanying their data, that they believe many of the indicators they're publishing make the situation look worse than it really is out in the community. But "number of people diagnosed with Covid-19 in Maricopa County per day is steadily increasing," officials say. "This is because there is increased spread in the community."
The number of hospitalizations looks as if has leveled off, likely due to social distancing efforts. But officials note that the Arizona stay-at-home order expired in mid-May. The number of new Covid-19 hospitalizations has increased to about 35 per day, from fewer than 20 per day before the stay-at-home order expired.
From: ThinkAdvisor