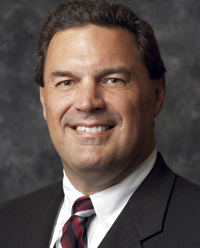 Ron Jadin, CFO of W.W. Grainger, says there are pros and cons to being in a short-cycle business.
Because Grainger, an $8.1-billion provider of maintenance and repair supplies and operating equipment, doesn't have a big order backlog the way longer-cycle industries typically do, "it can be hard to tell when a downturn is coming," Jadin says. "We didn't see the downturn until the fourth quarter of '08."
The upside is that when a downturn happens, a company like Grainger can turn on a dime and cut its costs.
"We have a lot of part-time employees in our warehouses and work centers," he explains, "so we can have flex employment, cutting our labor costs. Managers in each location manage their labor hours every day, so if you have the right tools and reporting, you can cut part-time hours out right away."
Jadin notes that when the economy reaccelerates, the company is able to pick up the pace quickly. "When you have the tools to show demand is picking up again, you can add people quickly," he says, "by just adding to their hours again."

Cutting hours isn't the only way that Jadin, who was appointed CFO in March 2008, cut Grainger's costs during the recession. "We took $100 million in inventory out of a total of $1 billion in inventory," he says. "And we did that without hurting our service standards at all, and that's not easy."
In fact, he says, the company was able to gain more market share during the downturn than at any time in recent memory. It accomplished this by micro-managing the inventory cuts, so that instead of wholesale reductions, it reduced the amount of each product on hand only slightly—for example, keeping eight of a certain type of hammer in each warehouse instead of 10.
Jadin says that through the recession, he and the rest of the company's senior management focused on providing good service to customers. While Grainger laid off 600 employees, it added 150 salespeople. He also rolled out a proprietary tool developed by the company, called KeepStock, to help Grainger's customers manage their own inventories.
Jadin also implemented a board decision to increase the company's dividend. "Our earnings were down 10% in 2009, but we increased our dividend by 14%," he says. "The shareholders loved it!"
Jadin, who joined Lake Forest, Ill.-based Grainger in 1998 after serving as a financial analyst at General Electric, says that after he was named CFO, he "introduced more of a contingency-planning mind-set—because you have to have a playbook."
That contingency planning includes strategies to extend the strong performance of Grainger's stock in recent years.
"We are currently in the top 3% to 5% in total shareholder return," he says. "Well, nobody repeats that. You can't do the same thing for five more years that you did for the past five. We need a new strategy. We need to put a lot of effort into figuring out what to keep and what are the important things to focus on."
One focus is global growth, Jadin says. "We're still 75% in the U.S., and we think we need to grow more outside the U.S."
The other area he wants to focus on is e-business. "We're the 15th-largest e-tailer with $2 billion a year in sales," Jadin says. "There's a huge opportunity for moving more of our business to the Internet over the next five years."
See Treasury & Risk's 2012 100 Most Influential People in Finance list here.
See a slideshow of the CFOs on this year's list here, and complete coverage of the list here.