Today the Association for Financial Professionals (AFP) released the results of its annual salary survey. The headline news is that finance managers and staff are receiving larger raises today than at any time since the financial crisis.
More than 3,300 finance professionals provided information on their base salaries as of January 1, 2014, as well as their total compensation (base salary plus any bonuses) during calendar year 2013. Respondents represent every region of the United States and companies of all sizes. Exactly half come from organizations with over $1 billion in annual revenue, while 22 percent come from companies with under $100 million in annual revenue.
Among all these respondents, the average raise in base salary from January 1, 2013, to January 1, 2014, was 3.8 percent. This is up from 3.4 percent the previous year, and it's considerably higher than at any other time since the crisis. For the first time in several years, finance staff saw a larger increase (4.1 percent) than did finance managers (4.0 percent) or finance executives (3.5 percent). Executives were the only group to see a lower average salary increase last year than they received the year before (see Figure 1, below). Among the 20 different job titles tracked in the survey, the two that saw the highest raises were financial reporting specialists (5 percent, on average) and financial analysts (4.8 percent).
Salaries vary fairly predictably by region, with finance professionals in the Northeast making around 10 percent more than those in the Midwest, although the difference varies by job title. For example, when treasurers' average salary is broken down by geographic region, the figure ranges from $207,362 in the Northeast to $195,331 in the West; $187,503 in the South; and $185,307 in the Midwest. Assistant treasurers make an average of $155,685 in the Northeast but only $136,512 in the Midwest, with salaries in the West ($140,256) and South ($138,725) falling in between.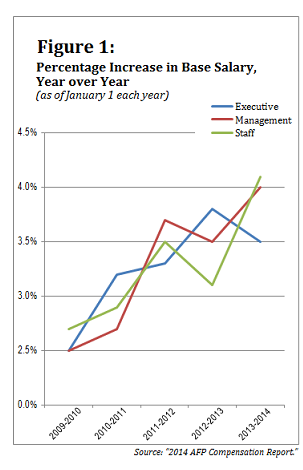 The survey reveals that company size has an even bigger impact on a finance pro's base salary than does geographic region. Across all job titles, the average salary in the survey's largest companies is $126,886, while it's only $88,909 in the smallest companies. (See Figure 2, below.)
In addition to earning higher raises, 71 percent of survey respondents also received bonuses in 2013. At the executive level, the average bonus equated to 34 percent of the respondent's base salary. Managers received bonuses equivalent to 17 percent of their base salary, and finance staff received bonuses equal to 10 percent, on average, of their base salary.
Among the companies that gave bonuses to members of their finance team, 94 percent awarded cash bonuses and 33 percent awarded stock options. In nearly two-thirds (62 percent) of organizations awarding bonuses, operating income or EBITDA targets were a key consideration in evaluating performance and calculating bonus size. Around half of companies based bonuses on completion of specific projects (51 percent) or on achievement of profit-related targets (48 percent).
The AFP survey also asked about vacation time, and it found that respondents get around three weeks off in their first year. First, they receive an average of 9 paid holidays. On top of these days, those who have separate tallies for vacation and sick leave receive an average of 11 days of paid vacation and 8 days of sick leave. Respondents for whom sick and vacation time are combined receive an average of 15 days of paid time off, in addition to company holidays. Half of organizations require employees to wait five years before they receive another week's worth of paid vacation—and 12 percent of companies require them to wait even longer. But 16 percent of companies provide another 5 vacation days after one to two years, and another 16 provide it after three to four years.