It's a wonderful feeling for the whole organization when a home-grown high-potential executive in treasury or finance moves upward and takes his or her rightful place in the C-suite. Everyone celebrates the selection and sits back to watch the magic happen. At least, that is how it's supposed to work. But what happens when the individual with so much promise can't deliver after the big day arrives?
It always comes as a shock when someone with an impressive combination of talent, experience, and results fails to achieve success in a new role. What causes a high-potential executive to crash and burn when scaling to the next level? Failure can usually be traced to one of two causes—either an unaddressed shortcoming in the individual or a failure at the organizational level.
Companies looking to improve the success of internal promotions need to review their talent management systems. Many wait until after a high-level departure to assess the skill gaps of internal candidates. Instead, organizations should work to identify high-potential individuals on an ongoing basis and prepare them in advance to have the right experience and skill sets before the next appropriate position opens up. And individuals looking to advance into a leadership role in treasury or finance need to put some thought into how their careers are progressing. (See the sidebar Set Yourself up for Advancement on page 4.)
Talent Must Align With Strategic Goals
When creating a talent management program, organizations frequently neglect to start with a foundation based on a clear picture of their strategic goals. What does the company hope to accomplish over the next three to five years? How will it be done? What dangers lurk over the horizon? And what kind of talent pipeline will the company need in order to be successful given these challenges and opportunities?
An evaluation of strategic goals should inform organizational leaders about the abilities and behaviors required of the company's future leadership team. In particular, the roles of finance executives appear to be rapidly evolving. In some companies, the CFO, treasurer, and other finance leaders play narrowly defined and technical roles, but increasingly, they are expected to see things through a broader lens and develop a broader point of view.
In fact, most organizations expect their senior-most finance leaders to play a role beyond financial stewardship, serving as a strategic enterprise leader for the entire business. At the same time, they're shifting some strategic responsibilities onto lower-level finance managers. It's no longer acceptable to wear one hat and say, for example, "But I'm the treasurer, and the treasurer doesn't do X." As an officer of the company, the treasurer may well be expected to take on responsibilities that weren't traditionally part of the treasury function.
One indicator that strategic responsibility is moving deeper into the organization is that managers outside the C-suite are increasingly interacting with companies' boards of directors. Today, treasurers and controllers need the credibility, courage, and confidence to convince the board that they're in control. In truth, any finance or risk manager could come under board scrutiny in the event of an accounting mishap or similar situation. Board exposure at lower levels is a good thing for companies' cultivation of internal candidates for executive positions, but it expands to some degree the skill set needed by people in lower levels of the finance and risk functions.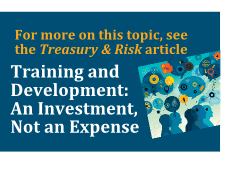 Wherever a business is headed, the organization's executives will have to evolve along the same path. If the company is becoming more focused on acquisitions, it will require acquisition-related skills of all its executives. If, instead, the company is focusing on organic growth with an eye toward cost savings, it will require a totally different skill set. Likewise, industries that are either deregulating or facing expansion of governmental oversight will demand a specific risk management skill set from the executive team.
The first steps in putting together a successful talent management program are to look at the direction in which the company expects its industry and its business to evolve, and then determine what that evolution means for its treasury, finance, and risk leadership. Outside business management consultants may be required to evaluate how changes in the business landscape should affect the company's performance expectations for individuals in certain roles.
Once the C-suite and function-level managers reach consensus around the key leadership behaviors and functional skill sets that the company's executives will need to sustain future organizational success, those characteristics should be codified and publicized. The selection and development of high-potential executives should revolve around these qualities, ensuring tight alignment between leadership and strategy.
Identification of Potential
Organizations that don't ground their talent management programs in the strategic direction of the business are at risk of filling critical positions with leaders who have impressive skill sets but cannot execute on the company's strategic vision. Even when corporate strategy is tied in closely with talent management, organizations often overlook or fail to identify their "true" high-potential talent. They may allow for an abundance of subjectivity in talent reviews. They may lack a consistent process for accurately assessing individuals' capabilities. Or they may equate future potential with current performance.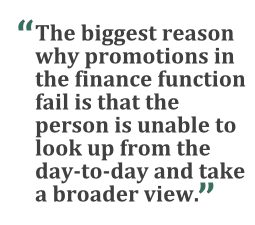 While exceptional results in one's current position may be a requirement for being deemed a high-potential executive, outstanding performance at one level does not guarantee success at the next. The biggest reason why promotions in the finance function fail is that the person is unable to look up from the day-to-day and take a broader view. Moving into a larger role generally involves taking on more complicated and nuanced responsibilities. As roles become more strategic, decisions require greater judgment and fewer problems have a clear right or wrong answer. Some people struggle to translate their narrow skill set to a wider perspective. They tend to get lost when they try to apply their former expertise to fuzzier situations where visibility is hazy and the guardrails are less clear.
The process of identifying high potential starts with an accurate and targeted assessment of prospective leaders. The assessments need to be objective, and they need to focus on future success, independent of past performance. In addition to considering the direction of expected evolution of the business, this process should seek out early indicators that individuals have the curiosity and interest to look outside their area of responsibility. Lower-level individuals won't see the organization as a whole, but they might at least take a couple steps outside their box and say something like, "I'm noticing this pattern, and I see how it connects to my business unit. I wonder if we could try XYZ."
The earlier a company identifies talent in a particular individual, the better. High-potential individuals will be attractive hires for other organizations, and even those that stay with the company will benefit from accelerated progress if they're provided the right opportunities at every stage of their career.
Talent Development and Retention
A good high-potential talent identification process means little if the organization falls short on talent development and retention. A development program for high-potential staff accelerates their readiness and prepares them to move more quickly through the pipeline. The goal is to close experience, knowledge, or perspective gaps for each individual. Depending on the individual's specific needs, the development plan may involve mentoring, external coaching, stretch assignments, and/or other learning opportunities. For example, one finance manager might have great ideas but have trouble pulling them together in a format that investors or the board will buy into; her most pressing development need might be closing a communication gap. Another finance manager might have a very narrow scope of expertise. He might be excellent on the transactional side but need a rotational assignment to fill out an experience gap.
Once a company completes a talent assessment, it should implement a talent review roundtable, in which managers from different functions meet and seek alignment on development of high-potential individuals in the organization. They should identify one or two skills that each high-potential individual needs to work on to be prepared for the next role he/she might occupy.
Bringing the creation of development plans for high-potential staff into the format of a cross-functional roundtable integrates multiple points of view into the process. Candid discussions that are part of these talent review roundtables help eliminate subjective decision-making that can be driven by personal biases or political agendas. They also provide information about how people outside of finance see each person, helping ensure that the people identified as high potential provide great service to their internal customers in addition to having strong technical capabilities within finance.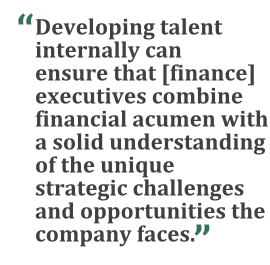 One CFO we worked with on succession planning remarked, "I have been hiring and promoting the smartest people I could find for 15 years. Now I have a lot of really smart people around and no one to delegate to." His point was that he'd made a lot of individual decisions with no one to challenge his thinking. Each hire and promotion looked like a good decision in isolation, but on the whole, there was a distinct pattern to behaviors he was valuing and those he was ignoring. He had a department populated by experts but few true leaders. This created a big problem for succession planning and even handing off strategic responsibilities. By bringing together diverse perspectives, a talent review roundtable can help executives avoid these blind spots.
In addition to discussing individuals' failings in the roundtable setting, executives need to communicate them to the candidates. A primary goal of the entire process should be to increase the self-awareness of each participant. Leaders who gain a deep understanding of their strengths, weaknesses, and impact early in their career are better able to leverage their assets. They also show a more consistent ability to mitigate and compensate for the skills or traits that might otherwise derail their career.
Note that it's important to limit the scope of each person's development plan to one or two items at a time. No one can invest energy in improving several different aspects of their personality and style and approach and background all at once; they have to be prioritized. Sometimes companies take a scattershot approach, putting high-potential staff in a leadership development program, encouraging them to pursue an MBA, giving them lots of feedback and four or five goals. This tends to water down each person's focus and reduces his/her ability to close specific experience gaps.
It's also important to be crystal clear in explaining each gap. Sometimes we spend so much time worrying about tactfully communicating about a person's weaknesses that the resulting language is completely ambiguous. A development plan that tells the individual "You need to work on communication skills" is almost meaningless. Does it mean he is not articulate in meetings? Does it mean he should work on public speaking? Does it mean his vocabulary is too academic—or that his vocabulary is too technical to be comprehensible to those with less expertise in a certain area? When the goal is to help each person focus in on specific skill gaps, being indirect about what the gap is does the individual a disservice.
After the roundtable group identifies the most critical skill gaps for a particular high-potential individual, finance leaders and/or HR staff need to create opportunities to close those gaps. Sometimes training programs or continuing education can adequately prepare someone for the next career move. Other times, filling an experience gap may require a structural change within the company. For example, an organization might create a new position to give a specific high-potential individual oversight of several business units, to demonstrate that the person can manage successfully at scale. Of course, making a structural change as part of a talent development program is risky. Executives preparing for such a change need to determine in advance how the company will respond if the individual isn't successful for reasons outside his/her control. A talent review roundtable should not recommend a key staff member for a stretch role in which he/she has a higher-than-average chance of failing, only to discover after the fact that the company has little tolerance for that result.
Costs and Benefits
This complex and involved approach to talent management obviously requires a substantial investment of resources. Some companies see finance positions as more readily interchangeable than line-of-business leadership roles. They routinely recruit CFOs, treasurers, and other finance managers from competitive companies, or even from different industries. However, developing finance talent internally can ensure that some of the most important executives in the company combine the appropriate level of financial acumen with a solid understanding of the unique strategic challenges and opportunities the company faces. It also helps ensure that any critical skill gaps have been accessed and addressed—something that may not be accomplished during an external search process.
Talent development can not only provide bottom-line benefits by populating the organization with highly effective leaders, but it can also play a critical role in the retention of a company's best employees. Investment in their professional development signals to high-potential individuals that they are valued by the business, and it enables them to envision a future with the company. Executives advancing through the ranks are very attractive to outside organizations, and giving them a clear internal career path helps reduce the chance that they will jump ship.
Ultimately, senior management must determine whether a high-potential talent development program would be worth the effort for their company. The answer may vary by industry and by organization. But companies that want to build enterprise leaders within their finance function will likely decide that a high-potential talent management program is a smart investment in the future of the organization.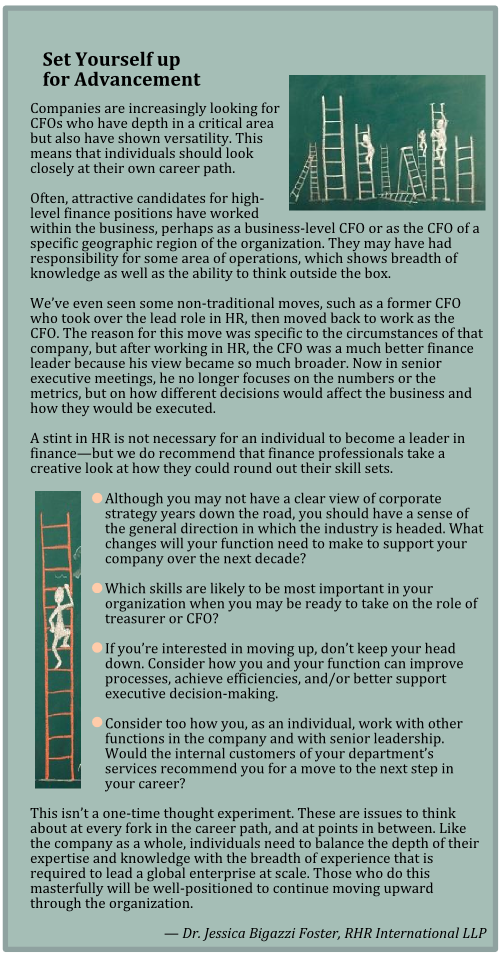 ——————————————————–
Jessica Bigazzi Foster, Ph.D., is the global practice leader for individual assessment for RHR International LLP. She has a strong background in psychological assessment, senior-level executive development, talent management, team building, succession planning, mergers and acquisitions, and organizational restructuring.