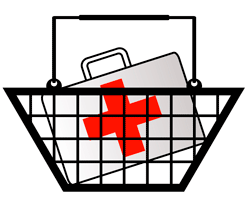 Private exchanges for health coverage made headlines last fall as a number of companies signed up for the new format. But a couple of recent surveys suggest that many other employers are waiting to see how well the exchanges perform before committing themselves.
The public exchanges established by the Affordable Care Act offer individual coverage, generally to people who don't get health insurance at work. In contrast, private exchanges serve companies that provide health insurance as a benefit, letting employees of these organizations pick the group coverage they want from a range of plans offered by different insurers at different prices. The hope is that insurers' competition to win employees' business on the exchanges will help contain healthcare costs. The exchanges also relieve employers of some of the work of administering health benefits and provide them with more certainty about healthcare costs.
Still, a National Business Group on Health (NBGH) survey of 136 large U.S. employers released in August showed just 3% plan to use private exchanges for active employees next year, although 35% said they are considering using private exchanges in 2016 or later. Brian Marcotte, the NBGH's president, noted that companies gave private exchanges high scores "on items like providing more choice, managing a defined-contribution environment, or even handling or managing regulatory compliance.
"Where there was a lack of confidence had to do with their ability to engage employees in healthcare shopping or healthcare decisions, their ability to control healthcare costs," Marcotte said. Companies "want to see how [private exchanges] evolve and mature over time," he added.
Another survey of both large and midsize companies conducted by Benfield Research found that 4% of the large employers and 6% of midsize companies plan to move to private exchanges next year.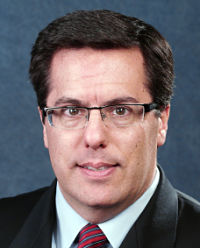 Companies don't have much data yet on which to base a decision because many of the private exchanges started up only in January of this year, said Chris Calvert, health care practice leader at Sibson Consulting.
"Right now you're seeing a wait-and-see approach by employers," said Calvert, pictured at left. "I don't think you'll see the same rate of growth for 2015 that you did for 2014. However, employers can start to get real-experience stories and real data from the exchanges and from their peers. I think there are an awful lot of people who are considering this for 2016."
Scott Thompson, president of the health care practice of The Benfield Group, also noted the lack of data on private exchanges' cost experience to date.
"Employers are selecting private exchanges because it offers more choice and it unburdens them administratively," Thompson said. If data were available that showed cost savings, "there'd probably be stronger adoption," he said.
Rich Birhanzel, managing director of Accenture Health and Public Service, is more optimistic. He estimated private exchanges enrolled 3 million people this year and predicted that will triple next year, to 9 million.
That pace of growth is "still quite modest" in the context of the roughly 170 million people in the United States who receive their health insurance through employers, Birhanzel said. "We remain confident we'll eventually see 40 million [accessing health coverage through private exchanges], which will only be 25% of those who receive their insurance through their employment."
Birhanzel said the exchanges' attractions for employers include not only their potential to cut costs and provide companies with more certainty about those costs, but the way they fit into changes in how people shop.
"Employees are consumers, and they tend to buy most other things in their lives online in a retail-like shopping experience, and open enrollment is clearly an exception to that," he said. "We think over time that's going to become an expectation, that the way you enroll for benefits is going to become similar to the way you shop for auto insurance or [the way you] bank.
"That will become a pressure point, especially for employers who are using benefits to retain and attract talent," Birhanzel added.
The exchanges are making significant improvements to the shopping experience they provide for this fall's enrollment season, he said, citing "better decision support, a greater variety of products, more choice among carriers on the private exchanges, [and] a better connection into funding mechanisms like savings accounts."
Cost Considerations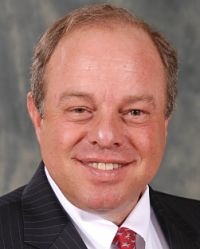 Ken Sperling, national health exchange strategy leader at Aon Hewitt, which operates a private exchange called the Aon Active Health Exchange, said he's seeing "a tremendous amount of interest" from companies but noted that it takes time for new approaches to catch on.
"If we look at every innovation in the benefits area, from managed care to consumer-driven healthcare and account-based plans, the adoption tends to be slow at first and then it accelerates," said Sperling, pictured at right.
Aon Hewitt, whose exchange opened for business at the start of 2013 and has 600,000 employees and dependents enrolled this year, recently released data showing that using its exchange cut the cost of healthcare by more than $750 per employee.
The savings represent "a combination of employees buying down, employees buying up, and the savings the exchange has brought through competition and the way our model is structured," Sperling said. Forty-two percent of employees who enroll on the exchange "buy down" to a health plan that is less rich than what they had previously and features higher co-pays and deductibles, he said, while 26% "buy up" to a richer plan.
Companies that renewed coverage on the Aon Hewitt exchange last year saw on average a 5.1% increase in costs, and companies renewing this year face a 5.3% increase, Sperling said, noting that both those increases were below the trend rates experienced by companies overall.
"In every retail market, when you have competition, prices go down," he said. "You have insurers that compete for that individual employee's business. Injecting that competitive element reduces prices and produces savings."
Sibson's Calvert said another way that private exchanges can provide savings is by offering better network choices. Companies often offer just one or two national networks in their health plans, which means they're not necessarily offering the best choice in every geographic region, he said.
"Now what you're offering is the chance for employees to access the best choice for them in their areas," he said. "That's one place where exchanges can offer savings that aren't on the back of the employer or the employee."
Retiree Benefits
Coverage for retirees is one area where the exchanges are proving attractive. In the National Business Group on Health survey, 14% of respondents from large companies said their organization is using a private exchange for retirees this year, up from 10% last year, with another 7% planning to move retirees to a private exchange in 2015.
Sperling noted that retiree exchanges have been around longer than those for active employees; Aon launched its retiree exchange in 2011. "The main reason is the Medicare marketplace has developed into a marketplace that is very competitive, very mature, and offers more value than an employer can provide in a group model," he said.
Calvert cited government subsidies that are available in the individual market for Medicare, Medicare Advantage, and Medicare drug plans. Because of those subsidies, "group retiree medical plans for post-65 populations offered by employers in many instances are significantly more expensive than what the retiree could purchase as an individual," he said. "Because of that dynamic, it's much simpler for the employer to say, 'I'm doing something that's certainly going to save us money, but it's also going to make coverage more affordable to retirees at the same time.' For the vast majority, it really becomes a win-win."