President Vladimir Putin vowed to punish, with "harsh" measures, speculators attacking the ruble in a defiant speech that reached into Russian history to defend his annexation of Crimea and compared his international opponents with Adolf Hitler.
"The authorities know who these speculators are and the instruments we can use to influence them," Putin said today in his annual address to parliament regarding efforts to defend the country's currency, which is trading near a record low. "The time has come to use these instruments."
Putin, who did not comment on the tailspin in oil prices in his 70-minute speech, also announced plans for an amnesty for those returning capital to Russia. The president said he'll eliminate unnecessary bureaucracy as he works to reassure a nation threatened by a spiraling economic crisis.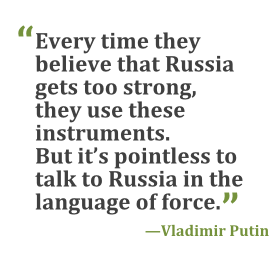 The data show a Russian economy reeling from an oil-price plunge this year of more than a third and sanctions imposed by the U.S. and its allies over the conflict in Ukraine. The Economy Ministry acknowledged this week that gross domestic product in the world's biggest energy exporter may shrink in 2015 for the first year in six. Inflation last month accelerated more than economists predicted, reaching the fastest pace since June 2011.
Putin, speaking in a chandeliered hall of the Grand Kremlin Palace in Moscow, promised to repel any effort to force Russia to back down over Ukraine as he recalled how his country fought off the Nazis in World War II, which is known in Russia as the Great Patriotic War and is an emotional rallying point for the population. More than 27 million citizens of the Soviet Union died in the conflict after Hitler invaded the country in 1941, violating a non-aggression pact.
"Hitler, with his humanity-hating ideas, was going to destroy Russia and throw us back behind the Urals," Putin said. "Everyone should remember how this ended. Next year we will commemorate the 70th anniversary of the victory in the Great Patriotic War. Our army overcame the enemy, freed Europe."
The ruble has lost a third of its value since Putin started his incursion into the Ukraine's Crimean peninsula in March, the most among 24 developing countries Bloomberg tracks. The ruble slid 1.1 percent, to 53.77 per dollar, following Putin's comments, erasing gains earlier in the day.
Weakening Russia
Putin's anti-West rhetoric during the speech was "one degree higher than usual" as the Russian leader tried to use it to rally support, said Gleb Pavlovsky, a former Kremlin adviser. "The historical part of the speech was very strange. Putin is in a conspiracy mode."
White House spokesman Josh Earnest said Putin had presented a "revisionist narrative on the crisis in Ukraine" that was "deeply troubling but utterly unconvincing."
"Western" allies are seeking to weaken Russia with sanctions and attacks on the ruble and oil price, Mikhail Fradkov, the head of Russia's foreign intelligence service and a former prime minister, told Bloomberg News after Putin's annual address.
The drop in the oil price is partially caused by U.S. actions, and foreign investment funds are "taking part" in ruble speculation via intermediaries, Fradkov said.
The Bank of Russia today reduced the rate it charges banks to borrow foreign currency in a bid to slow the ruble's slide and ease a dollar shortage. The ruble has "substantially" deviated from its fundamental value, creating risks for financial stability and spurring expectations of inflation and depreciation, the central bank said in a statement on its website, reiterating its readiness to intervene without limits.
"The Bank of Russia has moved to a free-floating ruble, but this doesn't mean it is distancing itself completely from influencing the ruble and that the exchange rate can become a target for financial speculation," Putin said.
Russian GDP may shrink 0.8 percent next year, compared with an earlier estimate of 1.2 percent growth, Deputy Economy Minister Alexei Vedev said Dec. 2. Inflation surged to 9.1 percent in November from 8.3 percent in October.
Putin said Russia must escape the "trap" of zero growth by achieving annual productivity gains of 5 percent, to return GDP expansion to above the world average within three or four years.
State-run VTB Group, the second-largest lender, gained as much as 12 percent in Moscow trading after Finance Minister Anton Siluanov said the government would give out aid from its $82 billion National Wellbeing Fund to finance infrastructure projects via VTB.
Annual Tradition
The "good part" of Putin's address is that he said he'd like a reduced government role in the economy and more freedom for business activity, said Luis Saenz, head of equity sales and trading in London for Moscow-based BCS Financial Group. "The bad part is that Putin's recipe for overcoming the crisis is made mostly from general proclamations."
The speech has become an annual tradition since then-President Boris Yeltsin first delivered it in 1994. Putin has previously used the occasion to declare major policy initiatives, including an effort he backed two years ago to goad companies and individuals to repatriate capital by ending the use of offshore destinations.
"I am sure if none of this happened, they would have invented another excuse to hold back the growing potential of Russia," Putin said of the sanctions. "Every time they believe that Russia gets too strong, they use these instruments. But it's pointless to talk to Russia in the language of force."
–With assistance from Anna Andrianova and Stepan Kravchenko in Moscow.