Today, Bank of America Merrill Lynch released the results of its "2015 CFO Outlook" study. Now in its 17th year, the survey gathered responses from 602 CFOs and other finance executives in U.S.-based midmarket companies, with between $25 million and $2 billion in annual revenue. And it found more optimism this fall than at any other time since the start of the financial crisis.
"Without any question, this is an optimistic report," says Alastair Borthwick, head of global commercial banking at Bank of America Merrill Lynch. "We haven't seen anything like this in seven years. It's a positive view with respect to sales, the economy, growth plans, margins, and employment."
The survey asks finance executives to rate their outlook on the U.S. and global economies on a scale of 0 to 100, with 0 representing "extremely weak" and 100 representing "extremely strong." Last year, when the U.S. economy received a rating of 53, it was the first time since 2008 that the U.S. economy received an overall positive outlook (a score above 50). This year, the U.S. economy jumped another six points to 59. Respondents' perspective on the global economy also improved, but slightly, from 50 in last year's survey to 51 this year. (See Figure 1, below.)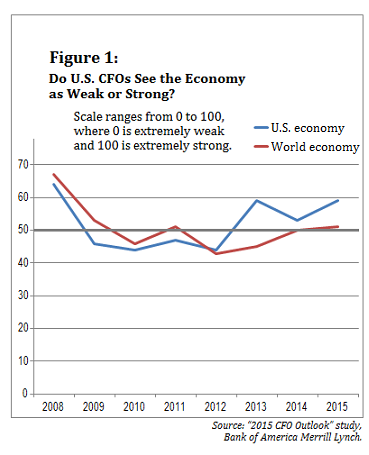 "Since 2012, we've had a period of slow healing, and actually this year it appears that CFOs are saying that things are accelerating a little bit," Borthwick says. "But they feel like the world is not poised in quite the same way as the United States. They're not seeing the same kind of acceleration in the world economy, and definitely seeing the United States as leading the world economy. Still, if you look at the world economy scores over the last four years—43, then 45, then 50, then 51—you get a sense that they are slightly optimistic about the world economy."
Also notable is the fact that 52 percent of respondents think the U.S. economy will expand in 2015, up from 47 percent last year and 39 percent in 2013, while only 10 percent think it will contract, down from 12 percent last year and 24 percent in 2013.
Respondents' biggest concerns about the U.S. economy are healthcare costs (56 percent, down from 67 percent last year), effectiveness of the U.S. government (47 percent), global conflict (45 percent), and the U.S. regulatory environment (44 percent). Despite these concerns, nearly two-thirds (63 percent) expect their company's sales to increase in 2015, and 41 percent expect their profits to grow. Just 14 percent expect profits to fall next year. "Only one in seven U.S. CFOs believe that their margins will decrease in 2015," Borthwick says. "Which, again, I think is a bullish signal."
The survey also asked about how the CFO's role is changing. More than half (52 percent) said their job will become even more strategic in 2015. Technology (61 percent), risk management (60 percent), and data management (59 percent) are the strategic activities that CFOs feel are requiring more of their time. About half (49 percent) see human resources issues becoming more demanding, while only 13 percent expect global initiatives to take more of their time in 2015. "Some of the things CFOs are increasingly being pulled into and their priorities, generally speaking, are reasonably consistent with the same things they said they're worried about," Borthwick concludes.