The impasse over Greece's future lingered as both sides worked on rival proposals for the conditions of a financial lifeline with debt payments looming.
Greek Prime Minister Alexis Tsipras said his government submitted a new plan, while officials from the country's creditors were said to have agreed on what would be a final offer to avoid the country defaulting. While the euro rallied on optimism over a deal, Dutch Finance Minister Jeroen Dijsselbloem, who leads the euro-area finance ministers' group, said institutions are still far from any agreement.
"As long as it doesn't meet economic conditions, we can't come to an agreement," he told RTL television. "It's not right to think that we can meet halfway."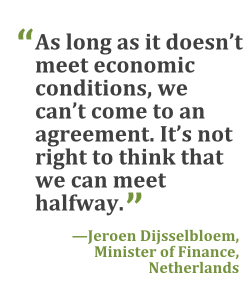 After four months of antagonism and extended deadlines, there's evidence now of greater urgency in efforts to break the deadlock and decide Greece's fate. At the same time, there were mixed messages over how final any offer might be and whether any agreement can be reached this week.
While Greece pledged to make a debt repayment due to the International Monetary Fund (IMF) on Friday, it's the smallest of four totaling almost 1.6 billion euros (US$1.78 billion) this month. The timing coincides with the expiration of a euro-region bailout by the end of June. A senior government official said on Tuesday it would continue to meet its obligations based on the means available.
The euro gained 1.7 percent against the dollar earlier. Greek bonds also rose, with the yield on the two-year security falling 183 basis points to 23 percent in Athens.
The deputy parliamentary leader of German Chancellor Angela Merkel's party, Ralph Brinkhaus, described the negotiating situation as "very confused."
An agreement with Greece remains some way off, with the German administration skeptical that a deal can struck before the Group of Seven summit in Bavaria on June 7, according to three government officials who asked not to be named because the talks are private.
The talks in Berlin resulted in a political agreement for translation by the European Commission, the IMF, and the European Central Bank (ECB) into technical commitments, one of the officials said. The common position among them is that the core principle is that the program has to add up in terms of budget figures to what was agreed previously, the official said.
"You can change the content of the package, you can make other priorities, but the total package—as we agreed with the former government—is that the budget must be in order," said Dijsselbloem.
Berlin Huddle
The meeting in Berlin at the German Chancellery involved Merkel, IMF chief Christine Lagarde, ECB President Mario Draghi, French President Francois Hollande, and European Commission President Jean-Claude Juncker.
Representatives from the creditor institutions have wrapped up their proposal, an international official familiar with the matter said. The person asked not to be identified because the talks are private.
The same official said the plans will be communicated to Greece on Wednesday, probably with Tsipras directly.
"After submitting a complete proposal for a deal last night to institutions, we are not waiting for them to submit their own plan back to us," Tsipras told reporters on Tuesday. "Greece is the one that submits the plan."
Greece submitted a 47-page proposal that includes projections of a primary budget surplus of 0.8 percent of gross domestic product this year, down from a target of 1.5 percent in April, state-run Athens News Agency reported. It includes a commitment to a surplus of 1.5 percent in 2016, as well as introduction of three different sales-tax rates, ANA said.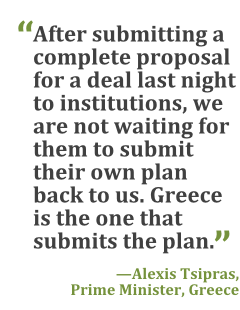 European Union Economic Commissioner Pierre Moscovici earlier told French radio that the European bailout fund was included in negotiations over releasing aid, raising the prospect that it could play a role in any deal.
Greece is seeking to access about 7 billion euros from its existing bailout before confronting any need for another rescue package. Sticking points have included budget measures, pension reforms, and changes to Greece's labor laws, with Tsipras's anti-austerity government talking about red lines.
Greek central bank Governor Yannis Stournaras said the country shouldn't raise taxes, though it could end some exemptions. The country and its creditors should now aim to agree on "a more reasonable primary surplus in the future and, in exchange for this, more structural changes," he said at an event in London on Tuesday.
In Frankfurt, the ECB raised the level of emergency cash available to Greek banks by 500 million euros, two people familiar with the matter said. The Governing Council increased the limit to 80.7 billion euros, the people said, asking not to be named because the talks were private.
–With assistance from Tony Czuczka, Rainer Buergin, Patrick Donahue and Arne Delfs in Berlin, Mark Deen in Paris, Paul Tugwell and Eleni Chrepa in Athens, Scott Hamilton in London, and Rebecca Christie in Brussels.