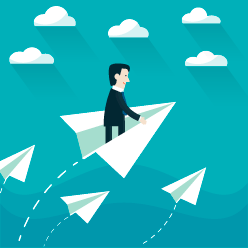 A significant portion of companies now use a cloud-based treasury system, although the majority still rely on software installed on-premises, according to a recent survey. Going forward, analysts and consultants expect increasing numbers of treasury departments to adopt cloud-based systems, particularly at small and midsize companies.
The survey of more than 400 businesses around the world, conducted by the Association for Financial Professionals (AFP) and its gtnews unit, shows that 58% use some kind of treasury management system; the portion is 66% in Europe and 53% in North America.
Among those companies, 54% use an installed, dedicated system, while 13% rely on the treasury module of the company's ERP system and 33% use software delivered via a software-as-a-service (SaaS) or application service provider (ASP) model.
When it comes to cloud-based systems, North America is in the lead; here 48% of companies that have a treasury management system use a SaaS or ASP product, versus 28% in Europe and 25% in Asia Pacific. In contrast, 63% of companies that have treasury software in Europe and 58% in Asia Pacific have an installed treasury management system, versus just 38% of companies in North America.
"That was the big finding from this report: how much more prevalent SaaS has become in North America than other parts of the world," said Tom Hunt, AFP's director of treasury services.
Installed systems involve a higher up-front cost than SaaS systems, and implementing and updating them requires the use of company IT resources, something that treasury departments may have a hard time accessing. On the other hand, installed systems allow more customization, and that can be important, particularly to large businesses.
"More and more companies will go with a SaaS solution, partly because more and more suppliers are dropping support of installed solutions," said Mark Webster, a partner at consulting firm Treasury Alliance Group.
"If I've got an installed system, I've got to pay the licensing fee, I've got to have staff, I've got to have equipment," Webster added. "If I go with SaaS, I don't have to worry about any of it."
The cost factors help explain why SaaS systems are most popular among companies with revenues between $250 million and $999 million, 50% of which use cloud-based systems, according to the survey.
"Right under that $1 billion mark, that's where you tend to see more companies using this," Hunt said.
James O'Neill, a senior analyst in the banking practice at Celent, a technology consulting company, said that before SaaS and ASP treasury systems were available, "for midsize companies, the cost of acquiring a treasury solution was just prohibitive." Instead, treasury operations relied on Excel spreadsheets. But that practice is less tenable now that boards of directors and auditors are ramping up their oversight of companies' risk management and considering such topics as the reliability of Excel spreadsheets, he said.
"That's where the software-as-a-service systems come in—they give you the capabilities of installed solutions but the price point is much more favorable to a midsize company," O'Neill said. "I think SaaS will really be competitive in getting the companies that are running Excel spreadsheets to finally commit to a treasury solution."
He argued, though, that large companies will continue to run installed solutions because of their "interest in having a greater level of control of the solution."
But Webster said even large companies may have reasons to consider a cloud-based treasury product. He cited a Fortune 100 client that is considering switching from its installed treasury management system. The treasury function has had a hard time getting the IT support it needs ever since the company decided to outsource IT support. Treasury is interested in a SaaS solution because it knows it could just pick up the phone and get someone to help, Webster said.
"The other big thing with SaaS, you know that as upgrades come down, they're automatically going to be made," he said. "I am automatically running on the latest version."
ERP systems' treasury modules, traditionally perceived as less robust than other treasury systems, have improved. "The ERP modules are much better than they were 10 or 15 years ago," Webster said.
ERP modules may not be as flexible as SaaS products, but they have the advantage of being integrated into the company's ERP system, he said. "That's a big deal. If I don't have to worry about tying into my [general ledger] system, that's a real benefit."
And Hunt noted that treasury departments may have an easier time making the business case for a treasury module to be added onto the company's ERP system than for a separate solution.
Data Security Concerns
The data breaches and other cybersecurity problems that have hit many companies in recent years don't seem to be deterring companies from adopting cloud technology.
O'Neill pointed out that, to date, breaches have occurred in private data centers, not in SaaS environments.
"It's always a concern, but I don't think it would be a show stopper for a company that's considering using a SaaS solution for treasury," he said. "The client obviously needs to do their own due diligence on their provider, but if you take the right precautions and have the right processes for managing things like access control and encryption, it should be an issue you can manage."
Hunt also noted the necessity for doing a thorough assessment of the provider and how it stores and protects its clients' data. "I think a lot of that has been stepped up probably in the last months," he added.
Looking for Cash Forecasting
Asked about the benefits of their treasury management software, 56% of survey respondents said their system is providing increased cash visibility, 54% said it's reducing errors, and 52% cited the integration of cash and risk practices.
When asked about additional functionality that would improve the treasury software, the most popular feature was electronic bank account management, cited by 53% of the respondents.
Interestingly, the second most popular feature that respondents said would improve their treasury management system was cash flow forecasting, cited by 51%.
Cash forecasting seems like it should be an integral part of any treasury management system. But O'Neill said that while systems include cash forecasting, not all companies with a system use that module.
"When it comes to the forecasting, traditionally some of these solutions have been very cumbersome to work with," he said. "Some corporates have opted to use their treasury management system for transaction management but not for forecasting. They would continue to do their forecasts manually through Excel spreadsheets.
"Occasionally they would upload the data," O'Neill added. "From the perspective of managing variances, the system would know what the forecast was, but the system was not involved in creating the forecast itself."
Hunt linked companies' continued use of spreadsheets for cash forecasting with the limited amount of customization possible with many treasury systems and the differences from company to company, whether it's a different year-end, different operating plan, or different seasonal factors.
"With those unique needs of each business, you have unique needs around cash flow forecasting," he said. "Excel has always been the dominant solution for cash forecasting just because of the customization capabilities."
Going forward, O'Neill said, there's an expectation that treasury software will become "more user-friendly," and that shift will encourage more companies to use the treasury management system to generate their cash forecasts.