Banking technology provider Fidelity National Information Services, or FIS, recently announced that it is acquiring SunGard in a deal expected to close in the fourth quarter of this year. Some customers of SunGard's products for corporate treasury have expressed concern that acquisition by a company focused on the financial services sector might reduce SunGard's level of investment in improving its treasury management offerings.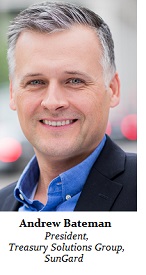 That's not how Andrew Bateman sees it. Bateman is president of the treasury solutions group at SunGard, and he thinks customers should be focused on the two companies' "highly complementary" product lines.
"FIS has leadership positions in corporate banking and payment solutions, which complement solutions for corporate customers that are using these services from their banks," Bateman says. "The combined company will have both sides of the equation, which presents significant opportunities as we bring these businesses together."
Bateman also says FIS has a history of successfully completing large acquisitions. "The rationale here is to bring together two great technology companies that have very similar business models and highly complementary solutions."
The combined company will have annual revenues of around $9.2 billion and will provide technology that supports not just corporate treasury activities, but also asset financing, insurance, asset management, and wealth management. But Bateman doesn't expect the acquisition to dilute the company's interest in continuing its treasury management product line.
"SunGard is heavily focused on the financial services space, and is a $3 billion company, yet SunGard continues to invest in the AvantGard Quantum and Integrity platforms," Bateman says. "Yes, FIS is about twice the size of SunGard, but that doesn't change the fact that we're going to continue to invest in our treasury business. We're committed to our customers, and we're not going to change that."
In short, Bateman says, "we're very excited about the opportunities ahead of us. Very few businesses in the treasury and risk space have the level of financial stability that FIS will have after this acquisition."