The workers' compensation market could currently best be characterized as stable, but changes in the nation's workforce—coupled with rapid-fire technological advancements—threaten to upset the balance of the industry.
The industry's financial outlook is positive; however, the National Council for Compensation Insurance (NCCI) warns agents and brokers that the market exhibits "calm now, but turbulence ahead" in its annual "State of the Line" workers' compensation market analysis. During the Florida rate-making and research organization's recent annual conference, NCCI noted the 2014 calendar year combined ratio for the private workers' compensation market was below 100 for the first time since 2006, total net written premium for the year was up 6% to $44.2 billion, and lost time claim frequency dropped by an average 2% among NCCI states.
Among the factors challenging the workers' compensation system are increasing medical costs, threats to the industry's security systems and the changing nature of the workforce. However, many organizations are seeking solutions by leveraging technology to prevent injuries and identify and address high-risk claims.
Grappling With Healthcare Costs
"Medical costs continue to be the No. 1 cost driver, in spite of all the efforts to contain them," says Mark Walls, vice president of communications and strategic analysis at Safety National and the founder of WorkCompAnalysis, the largest LinkedIn group devoted to the discussion of workers' compensation issues.
According to NCCI, the average medical cost per lost-time claim grew by 4% in 2014, following raises of 2% to 3% in each of the prior three years. Contributing toward the increase is the use of compound medications—personalized prescriptions created through the use of multiple ingredients, which can command a high price due to their bespoke nature.
In a survey conducted by consortium pharmacy benefit managers CompPharma, compound medications were cited by two-thirds of payers as one of their most pressing issues in workers' comp pharmacy. "Compounds have a place in healthcare, there is no question—even in workers' compensation," says Brian Allen, vice president of government affairs for pharmacy benefit manager Helios, in Westerville, Ohio. "What we're seeing, however, is prepackaged compounds that are being pushed as the first-line treatment, without really demonstrating a need for a compound."
The CompPharma survey also showed that the total pharmacy spend for 2014 compared to 2013 was up 6.4%. "This is the first increase across the industry in five years," says Joseph Paduda, president of CompPharma, headquartered in Madison, Conn., and principal of Health Strategy Associates. He notes that rising drug prices aren't the only medical cost driver in the workers' compensation system.
"The other thing happening is facility costs for hospitals and healthcare systems are going up at or near double-digit rates for many payers and not many are paying attention," says Paduda. "Hospitals are buying up physician practices and getting more buying and negotiating power."
Workers' compensation stakeholders are using a variety of measures to rein in medical costs. In several states, legislative efforts call for closed pharmacy formulas, whereby only certain medications can be given to injured workers without prior authorization.
Medical provider networks are another vehicle for containing costs in closely managing care for injured workers, but they have not proven consistently effective among all states. In California, for example, provider networks implemented two years ago as part of widespread reforms have not delivered the savings some had hoped for.
"Networks as a whole are not delivering the same degree of savings as they were in years gone by," says Alex Swedlow, president of the California Workers' Compensation Institute. That's not to say there are not high-performing networks, he adds: "An actively managed network can still drive superior outcomes."
A Changing Approach to Claims Handling
The increased complexities of cost containment, combined with tighter regulatory requirements, are complicating the job of managing claims. Some third-party administrators are increasingly being asked to help facilitate compliance for their clients.
"As states look for money, they have tried to seek fines and penalties [for violations] that were on the books before, but not enforced," says Kathryn M. Tazic, managing director of Client Services at Sedgwick Claims Management Services in Memphis, Tenn.
Claims and risk managers also need to be aware of the relationship between workers' compensation claims and compliance areas such as OSHA and the Americans with Disabilities Act, adds Tazic, "because the regulations [in play] have become so much more complicated, not less."
With claims adjusters managing 120 to 180 claims per day on average, the job has become ever more complicated. Some insurers are seeking solutions in technology.
"Predictive modeling helps carriers understand which claims are at high- or near-term risk and need more managing," says Jeffrey Austin White, director of innovation at Accident Fund Holdings Inc., a Lansing, Mich.-based writer of workers' compensation insurance. "It provides the possibility of automatically prioritizing claims and then driving workflow items from it."
Of course, the best way to prevent high claims costs is to endeavor to prevent injuries before they happen. Implementing comprehensive wellness programs and addressing issues beyond just worker injuries are among the strategies being taken by practitioners.
Health and safety have taken a more prominent place at the table when it comes to the business operations of an organization, says Robert Cartwright, corporate safety & health manager at Bridgestone Retail Operations LLC, where he oversees safety, loss prevention and OSHA matters: "It's more of an issue where every segment is involved—HR, business operations, finance—in safety."
The key to developing a culture of safety is getting buy-in from employees, says Rick Roberts, director of risk management and employee benefits for global technology company Ensign-Bickford Industries, headquartered in Weatogue, Conn., and RIMS president. "There is more of a focus on paying attention to what employees are saying and letting them drive some of the processes," he notes. "There's a movement toward people trying to change behaviors."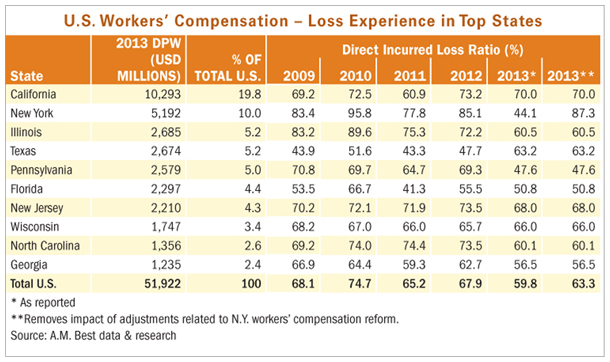 A team approach to handling claims is beginning to develop, adds Roberts. He believes that better partnerships are forming among risk managers, insurancecarriers and brokers: "We've found if we bring in insurance carriers and show them what we do, they are more than willing to look at our programs and take a hard look at the pricing and work with us than they have in the past."
That team approach also extends to how claims are managed. "I see [the process] evolving from the traditional model where you have one adjuster who does it all, into a team approach because of the complexity of the claims," says Walls at Safety National. "They are so complex that you really need medical experts for the medical issues, legal experts for the legal issues. I think you are going to see an evolution to a more team-style approach."
Third-party administrators also are taking a role in actuarial discussions. "One of the things we are being asked to do now is engage in the actuarial process," says Tazic at Sedgwick. "We attend meetings with actuarial firms and help employers, on a consultative basis, understand and explain the trends actuaries see."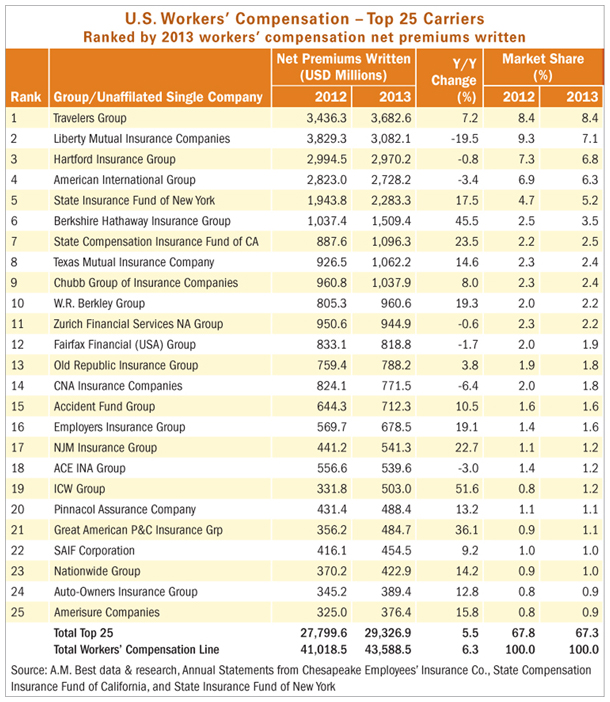 Market Threats
The "on demand" economy also is seen as a potential disruption to the workers' compensation system. Car-sharing companies such as Uber, Lyft and household-task outsourcing firm TaskRabbit allow users to employ those who supply needed services by the swipe of a finger on a smartphone. However, they raise questions for workers' comp practitioners.
While Uber is making billions of dollars by matching drivers with locals needing transportation, the company and others like it consider the workers to be contractors rather than employees. The drivers use their own vehicles and have no overtime, health insurance or workers' compensation coverage. Several court challenges have been filed by on-demand workers seeking coverage for their injuries.
Additionally, data breaches at some of the nation's largest healthcare companies, as well as among retailers, have raised concerns for workers' comp stakeholders over patients' data being compromised. Due to the plethora of individuals and organizations transmitting and sharing sensitive and highly confidential medical data on employees, RIMS surveyed its members on their approaches to handling cyber exposure. The survey, which was answered by 284 of RIMS' professional members in the U.S., provided data about insurance investments, exposures, cyber security ownership and government involvement, as well as identification methods and response procedures.
When asked whether their organization transfers the risk of cyber exposure to a third party, 58% answered yes. Of the respondents, 51% said they had a stand-alone cyber insurance policy. Of that 51%, only 8% said their purchase of cyber insurance was the result of contractual obligations.
The survey triggered a great deal of discussion by a number of risk managers buying the coverage, says Roberts, "but of more interest is how many are looking to buy it in the next 18 months; the vast majority are looking into it."