The Federal Reserve's policy meeting this month, at which it's widely expected to raise interest rates for the first time in nearly a decade, has become a source of apprehension for Chicago Fed President Charles Evans.
"I admit to some nervousness about our upcoming decision," Evans, a 2015 voter on the policy-setting Federal Open Market Committee (FOMC), said Tuesday in remarks prepared for a speech in East Lansing, Michigan.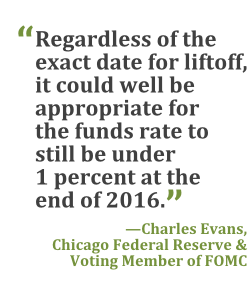 Evans, among the most dovish of Fed policy makers, reiterated that he "would prefer to have more confidence than I do today that inflation is indeed beginning to head higher" before raising rates, adding that "regardless of the exact date for liftoff, I think it could well be appropriate for the funds rate to still be under 1 percent at the end of 2016."
Fed Chair Janet Yellen is expected to reinforce the possibility of a decision to increase the central bank's benchmark federal funds rate at the FOMC's Dec. 15-16 meeting when she gives her outlook for the economy on Wednesday in a speech in Washington. The next day she's scheduled to testify before Congress's Joint Economic Committee, where she'll deliver a statement and answer questions from lawmakers.
Evans said that it's vital the Fed "strongly and effectively communicates its plan for a gradual path for future rate increases" following liftoff.
Speaking in a state that is home to the nation's largest auto manufacturers, Evans also said very easy U.S. monetary policy had helped boost car sales in recent years.
"With sales above trend and higher financing costs coming, we should expect sales to move down some from their current high pace," he said. "But against the backdrop of a healthy job market and steady economic growth, the declines shouldn't be too large."