One big trend in treasury technology next year is likely to involve vendors moving to address the needs of small and midsize enterprises (SMEs), according to Enrico Camerinelli, a senior analyst at Aite Group, a technology consulting company.
"The treasury players will be addressing mostly those companies that have been using Excel quite extensively, and they might have some basic accounting systems," Camerinelli said. "These companies are aware of the fact that using spreadsheets is not the best situation, but they don't have the necessary budget to go for the big [treasury management systems]. They need to have something smaller."
Samuel Peay, senior treasury analyst at the Utah-based Ancestry, which provides genealogical science and technology solutions, exemplifies the kind of midsize company that Camerinelli was discussing.
Ancestry's three-person treasury had been using "a really robust tool" that combined Tableau and Excel, Peay said. But the treasury team decided to shop for a treasury management system amid concerns about how it would handle more complexity or an expansion of the business to more countries. "If we go to more countries or start using more currency pairs, we weren't sure we could handle it with the tool we had," he said.
"Trying to find a good fit for a treasury workstation is really, really tough."

—Samuel Peay, Ancestry
Purchasing a treasury system can be a challenge for smaller companies. "Trying to find a good fit for a treasury workstation is really, really tough," Peay said. "Most of them are priced out of reach; most of them take a year to implement."
The Ancestry treasury team's process for selecting a system included ensuring that each of the three vendors it considered could automate two key processes—consolidated reporting of the cash positions from its banks in different countries and daily cash forecasting. "The other thing we did was build a list of all the spreadsheets we used and graded the three different companies on how many of these spreadsheets they can eliminate," Peay said.
Ancestry settled on C2Treasury from TreasuryXpress and found implementing the system to be "refreshingly easy," he said. "The TreasuryXpress team promised it would be a quick and efficient experience and it was."
"The expectation in the industry is that it's going to take nine months or more and just endless training and almost a full head count dedicated to get this thing up and running," Peay said. "The great thing about TreasuryXpress is the software is on-demand and so plug-and-play. I think I had a login in 30 hours from the time I signed the contract. I had data flowing in two days.
"The biggest challenge we had up front was the banks getting in line and getting our data feeds squared away," he added.
Peay says the new system has allowed treasury to automate 98% of its cash position, as well as its weekly reporting to stakeholders. "Our cash forecast has a home, and it's getting more and more sophisticated, and it's giving us more and more insight as we get more and more comfortable with the platform," he said. "It's easier for us to make good decisions now that we have good data."
From the December 2017 special report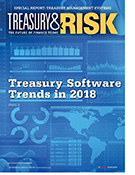 See also:
Treasury Software Trends in 2018