It's no secret that the U.S. Postal Service has struggled for years against such headwinds as private-sector competition, digitization and unfunded government mandates including six-day-a-week delivery service. But under CFO Joe Corbett, the $67 billion government-owned, commercially operated organization, which won a Gold Alexander Hamilton Award for Cash Management in 2009, continues to find new opportunities among the many challenges.
T&R: Despite all the financial changes the USPS is going through, you managed to create best-in-class innovations with your AHA award for cash management. Are there more innovations to come?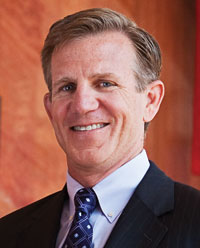 Corbett: Absolutely. We were the first government entity to implement Sarbanes-Oxley. We completed the implementation in our fiscal year ending September 2010, and we got a clean opinion from our audit firm, Ernst & Young, in November of last year. It was an enormous task when you think about it. Everyone bet we weren't going to be able to do it. It's nice to be able to overcome that, because the odds are against an organization that is decentralized, with 36,000 locations, the largest retail network in the county and a long, long legacy, so you have systems built on top of systems.
But we did it and we made money doing it. We had a cost of over $100 million for the implementation, but given the processes we streamlined and the revenue leakage holes we plugged during the process, we anticipate we made over $100 million in profit just by having implemented SOX in the first year.
That is on the cost side. On the revenue side, we are looking at a number of things. Some are years out and some will require changes in laws and regulations. One obvious area we are looking at is hybrid mail. That means two things. One we are doing today and actively piloting. We start with digital mail, turn it into a physical mail piece, and deliver it to primarily targeted customers. We've established cost centers and a sales force where they are working with small and medium businesses that have not used the mail in the past. We can give them help designing the mail digitally and then sending the file to the closest, best point to where their target customers are, so we can print it there and prepare the mail and deliver the mail in a hybrid way, rather than have them just deliver physical mail to one of our locations.
T&R: In terms of strategy going forward, will the pace of closings of physical USPS locations continue?
Corbett: We're in the middle of a campaign that we kicked off two years ago where we really stepped up our partnering with non-postal businesses to become distributors or recipients of mail for us. So, for example, we have over 1,000 Office Depot locations where they are approved shippers for the postal service. So you can drop your mail there or you could buy something there and ship it to someone. It's essentially a post office within Office Depot. And what that allows us to do is serve our customers better. We have over 50,000 other locations, such as grocery stores, that do some or all of what a post office does.
So you've got your brand out there, and it will allow you to close brick-and-mortar post offices of your own, where you have high-cost labor, unnecessary rent and upkeep and maintenance, and at the same time improve your revenue stream. We have identified about 2,000 post offices that likely will close in the near future, out of a total of 34,000.
T&R: What else is going on?
Corbett: We're not just reducing our workforce, direct labor, but we are also in the middle of an administrative realignment and reduction of people. It's really geared toward being more efficient, taking out some of the layers that have grown over the years. But the end result will be we think we'll save about $750 million a year, just from the compensation and benefit costs alone we'll be taking out of the organization. So on top of the operational areas I talked about before, no stone is left unturned, starting with the administration and moving through the direct labor areas. It's very new. We kicked that off in December.