U.S. regulators are getting fed up with Wall Street's attempts to stall a restriction on risky swaps trades.
JPMorgan Chase & Co., Citigroup Inc., and other lenders have already won one delay of the measure that forces them to move derivatives out of units with federal backstops. Getting another reprieve is crucial for banks, because it would give them time to persuade a Republican-led Congress to kill the requirement.
"Just because it's authorized doesn't mean it happens," Comptroller of the Currency Thomas Curry said when asked whether Wall Street would get another extension, which regulators can grant under the Dodd-Frank Act. Banks should be ready to comply with a July deadline, he said in an interview.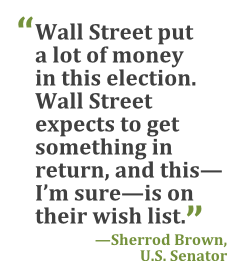 Lawmakers included the provision in Dodd-Frank to protect taxpayers from bank losses after souring derivatives trades spurred a government rescue of the financial industry in 2008. In 2013, the Federal Reserve and the Office of the Comptroller of the Currency (OCC) provided a two-year delay on the condition that banks take reasonable steps to move swaps to affiliates that don't benefit from federal deposit insurance.
"Five years seems to be a pretty good period of time to get those sorted out," Federal Deposit Insurance Corp. Vice Chairman Thomas Hoenig, whose agency consults with the Fed and OCC, said in an interview. "They haven't shown me anything to convince me" that more time is needed, he said of banks.
Burden on Banks
In the second quarter of last year, JPMorgan held 97.9 percent of its $72.8 trillion notional-value derivatives portfolio in its insured banking unit, and Citigroup had 99 percent of its $61.1 trillion in its bank, according to OCC data. A year later, there was no sign of the banks moving to shift the activity, with JPMorgan's rising to 99.7 percent and Citigroup's percentage holding steady.
"We were pretty clear when we gave the initial extensions that we expected banks to begin preparing for implementation," Curry said. "The burden's really on the banks to meet that standard or exceed it."
Spokesmen for JPMorgan and Citigroup declined to comment.
Giving banks another extension would shift the focus back to Capitol Hill, where the Republican-controlled House passed a bill to overturn what's known as the swaps pushout in 2013. Companion legislation went nowhere in the Democrat-led Senate. Prospects for passing a bill out of Congress may be better next year, with Republicans in charge of both chambers.
"I don't see why we can't get it done," said Senator Pat Toomey, a Pennsylvania Republican who co-sponsored the Senate version. Bipartisan support in both houses shows that removing the swaps provision isn't controversial, he said.
Banks already won concessions in the drafting of Dodd-Frank. Instead of requiring that all derivatives be traded in outside affiliates, the law pushes out only equity, commodity, and non-cleared credit swaps.
Still, moving swaps into separate units probably will cause headaches for the financial industry because of compliance responsibilities and the fact that the new units will need capital.
Wall Street is also concerned that it will have to re-negotiate contracts with clients and isn't certain what kind of affiliate structures make the most sense to hold swaps, said Doug Harris, a former senior deputy comptroller at the OCC. Much of the confusion is blamed on the Securities and Exchange Commission (SEC), which hasn't finished writing rules for swaps that lenders have to push out, he said.
Banks aren't "completely prepared," said Harris, who now advises financial firms at Promontory Financial Group LLC. "They don't have all of the information that they need."
John Nester, an SEC spokesman, decline to comment.
'Significant Subsidy'
Hoenig argues that letting Wall Street keep swaps inside big banks leads to a perception that the products benefit from government support. That muddies the market's ability to measure the risk of derivative transactions, he said.
"The safety net is a pretty significant subsidy for those activities," Hoenig said.
The Fed has been more sympathetic, and its chief lawyer recently criticized the rule as outlined in Dodd-Frank.
"You can tell that was written at 2:30 in the morning," General Counsel Scott Alvarez said Nov. 7 at an American Bar Association conference in Washington. "That needs to be, I think, revisited just to make sense of it."
Congress will face intense pressure from lenders to do away with the swaps pushout, said Senator Sherrod Brown, an Ohio Democrat who has criticized the financial industry while serving on the Banking Committee.
Commercial banks contributed $24 million to this year's congressional elections, with Republican candidates receiving twice as much as Democrats, according to OpenSecrets.org. Banks have spent another $44 million on lobbying this year.
"Wall Street put a lot of money in this election," said Brown. "Wall Street expects to get something in return, and this—I'm sure—is on their wish list," he said of the swaps regulation.
–With assistance from Cheyenne Hopkins in Washington.