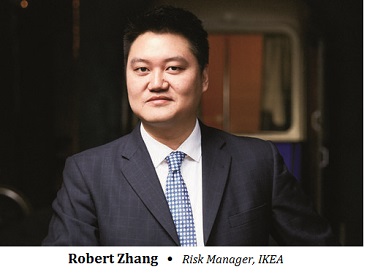 In conversation, Robert Zhang uses the word "opportunity" often—and for good reason.
As the risk and compliance manager for home-furnishings global retailer IKEA in China, Zhang understands a thing or two about identifying opportunities where others might not; it's a sixth sense that informs his ability to effectively assess exposures in more than 30 countries in which the Scandinavian company operates.
A native of Dalian, a city and seaport in China's Liaoning Province, Zhang spends his days navigating a spate of business threats common to many a retail chain in the 21st century, including cyber risk; supply chain exposures; and the standard slips, trips, and falls among both personnel and patrons. His primary area of responsibility is in risk management and insurance, as well as compliance and internal audit. All four, he notes, are critical to a well-rounded corporate risk program.
"Being a risk manager is like being an entrepreneur, in a lot of ways," he says. To Zhang, that includes being the ambassador for raising companywide awareness of its exposures, from the C-suite to the trenches.
"If you define 'risk' as something that prevents businesses from reaching their objectives, then you have risk management in every aspect of our business," he explains. "Everyone is a risk manager in their own way, as long as you have that awareness."
It's a statement indicative of a 10,000-foot view when it comes to risk mitigation, one cultivated via learning when to listen and when to act. Much of that sensibility, he says, comes down to two of the most important things a risk manager can do: show respect and be reasonable to other parties, whether it's with limited information or a lot of it. As Zhang puts it, "I always think that life is a journey to understanding a lot of different cultures and people."
High Road to Full Circle

That journey began for Zhang in 1998, when he was offered the opportunity to enroll in an international exchange program that took him to MacArthur High School in Irving, Texas, and then Cass High School in Cartersville, Ga.—an experience that culturally, for a teen growing up in China, was "a real eye-opener," he says. He went on to earn his undergraduate and graduate degrees from West Virginia University in Morgantown, focusing on the strict, analytical curricula of statistics.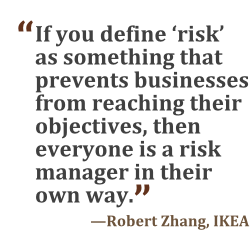 Living on his own, far removed from his home country and traditional Chinese family, and relying primarily on himself and his mentors, empowered him to be the key decision-maker in his life—and in his professional development.
Along the way, Zhang learned invaluable lessons in embracing diversity and respecting differences in others. "The way I've been treated in the past has changed the way I approach people in my life," he says.
While pursuing his master's degree, Zhang joined global broker Willis in the U.S. in early 2006. Upon completing his studies the following year, the stars aligned: The Chinese government had expressed strong interest in bringing foreign brokerages to its soil, and Willis completed a joint venture with a Chinese partner to do just that. The opportunity opened up for him to join the broker's brand-new Shanghai office.
It wasn't a hard decision, and one made simpler by two key factors: Zhang's parents, whom he wanted to make sure were cared for. The idea of being only a 90-minute flight away was highly attractive. "I was very passionate about being closer to them and taking care of them as they retired," he relates. "They have been my idols and my biggest supporters for many years, so it was important for me to then take care of them." Zhang earned three promotions in three years, rising from account manager to senior account manager to assistant director by 2009.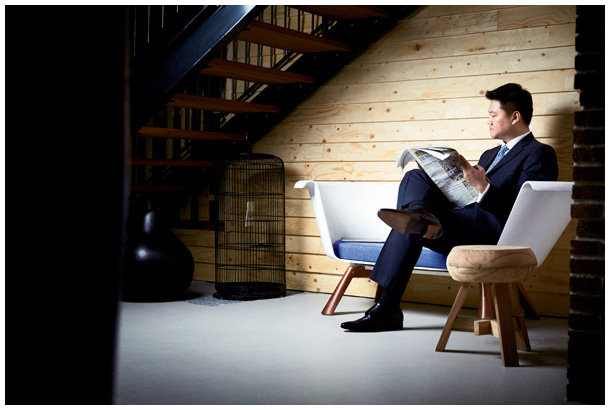 While at Willis, Zhang operated as a member of an international team providing risk management consulting for businesses investing in China. One of his larger clients was home-improvement retailer B&Q China, which sparked his interest. Given the opportunity, could he leave the brokerage side for corporate risk management?
"I was having a great time at Willis," he says, gaining a lot of international exposure to various risks and emerging technologies. He recalls asking himself, "Do I want to join the corporate side, where things are more structured?"
Zhang says it was one of the hardest professional decisions he's made to date, and a path that he's very glad to have chosen. He made the leap in January 2011.
Being able to see how risk-mitigation decisions are made at the corporate level, particularly the varying perspectives that come into play and interests that must be balanced, fascinates him. "You get to carry on a similar role on a different side of the game," Zhang explains. Comparatively, as a consultant, "you can only do so much," he says. "It's one of the best decisions I've made."
At B&Q China, Zhang operated as its risk manager and compliance officer. The following year he was given the opportunity to join the China-based risk management division of Yum! Brands (owner of KFC, Pizza Hut, and Taco Bell).
It was during his time at Yum! Brands that Zhang first became involved with RIMS and began taking advantage of the risk management society's educational and networking opportunities. Zhang's experience with RIMS at the executive level began Jan. 1 of this year, when he joined its board of directors.
"If it wasn't for RIMS, chances are I wouldn't be able to speak the same language with people in various other industries, in other countries," he says. "It wasn't a difficult decision to serve on the board, because I know the qualities of the people who serve on it and who work behind the scenes."
Building a Culture

Integrity is one of the key themes Zhang mentions when discussing his career choices. Integrity helped inform his decision to become the China-based risk manager for IKEA in July 2014. "I see myself as sharing a lot of the common values that IKEA strives for as a company, making everyday life better for our customers," he says. "I consider myself part of the journey, those values I'm standing behind with our colleagues. That's something I'm very proud of."
For Zhang, taking ownership of and exemplifying IKEA's values is a key piece of the risk-management puzzle. The company's risk-management program, he says, is built around four of its key corporate values: togetherness, cost-consciousness, respect, and simplicity.
Additionally, IKEA has long taken a proactive role in environmental issues, particularly in being environmentally conscious in the design, manufacturing, and shipping of its products. That same sense of social responsibility is also ingrained in the company's risk-management efforts.
"We want to have a positive impact from a sustainability point of view. It's in our blood," he says. More than 76% of the retailer's cotton comes from sustainable resources, he notes, and more than 700,000 solar panels have been installed on IKEA buildings worldwide, in line with its People Planet Positive strategy.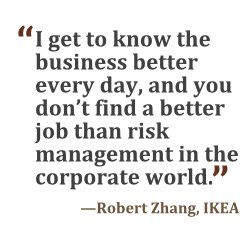 Zhang is hardly the company's only risk manager; he often collaborates with other key risk professionals within IKEA China and in other IKEA countries. "Working closely with other parts of the business is very important to keep the risk management program 'alive,'" he says.
As the lead risk professional in China for an international retailer, fluctuating between communication in Mandarin and in English is second nature. For unilingual risk managers, doing business in multiple tongues might seem intimidating; Zhang regards it simply as part of the way he operates, although he concedes that for those working in China, it is a key skill.
"Being bilingual is common in Shanghai in an office environment," he explains. "It's a matter of what we do in day-to-day life." On a Tuesday, he could be communicating in English for 90% of the work day, and then perhaps only 10% the next. This, he adds, has become the norm in Shanghai, "especially in the last decade."
Part of Zhang's daily work, he says, lies in educating others in his homeland of the importance of the risk manager's role. The risk management function is still relatively new in China, as opposed to being a fixture in American corporate structures.
"I'm doing what I can to stay with the development of the risk management industry here, and hopefully one day I will be able to become one of the best risk management professionals in China," he adds. "That's one of my personal goals. I get to know the business better every day, and you don't find a better job than risk management in the corporate world."