To the top cop on Wall Street, it's a powerful court of justice.
To the accused it can seem like something darker: a parallel American judiciary, separate and unequal, that strains the highest laws of the land.
After decades in the shadows, the in-house court system of the U.S. Securities and Exchange Commission (SEC)—a crucial tool of securities law enforcement—is being thrust into an uncomfortable public spotlight.
For the first time, the SEC is confronting a multipronged attack on its use of what are known as administrative law judges, to whom it directs hundreds of cases a year.
The SEC says its system, in use since the Depression, is fair, cheap, and efficient. But critics, former SEC lawyers and federal judges among them, question whether defendants get a lawful hearing.
At stake is a pillar of SEC enforcement and, with it, many of the victories the agency has won. Confronting a host of legal challenges, SEC Chair Mary Jo White has indicated the possibility of routing fewer cases to its five judges, according to a person familiar with the matter.
"This is a fight the SEC never anticipated," said Peter Henning, who teaches law at Wayne State University in Detroit. "It's a landmine that could blow sky-high."
The repercussions could be felt across Washington. Many federal agencies rely on similar in-house courts, so what happens at the SEC could have broad implications.
The issue gained new urgency last week when a federal judge in New York ruled against the SEC in a closely watched case. U.S. District Judge Richard Berman may now rule as early as Monday on whether the method for appointing the SEC judges ultimately violates the Constitution.
Berman last week refused to dismiss a challenge by a former executive at Standard & Poor's who is subject to an internal SEC action. The regulator has claimed the former executive, Barbara Duka, pushed to change credit ratings to help S&P win business. Duka, who denies the allegations, has countered that any judgment would be invalid because SEC judges are appointed through normal agency hiring practices, rather than by its commissioners. That, her lawyers say, makes the system unconstitutional.
A U.S. judge in Atlanta has blocked two SEC proceedings on similar grounds. But a ruling by Berman, who hears cases just blocks from Wall Street in lower Manhattan, could be particularly damaging to the regulator.
'Easy Fix' for the SEC
Berman gave the SEC until Monday to decide whether to adopt what he called the "easy fix": having the judge appointed by its commissioners. But such a step could call into question past decisions by the court, as well as rulings by judges in other agencies.
In a letter from Justice Department lawyers to Berman on Monday, the SEC declined his invitation to announce a change in its process by the deadline.
The agency is concerned about creating problems with current cases, according to a person familiar with the matter, who spoke on the condition of anonymity because the deliberations are private.
The regulator began holding administrative hearings shortly after its creation in 1934. The Dodd-Frank law, enacted in 2010, expanded the agency's jurisdiction beyond brokers and investment advisers, and empowered its judges to issue orders and levy fines that previously had been available only in federal court.
The SEC's Enforcement Division has embraced the new tool. In fiscal 2009, the year before Dodd-Frank, the SEC filed 53 percent of its enforcement actions in-house. By the end of the last fiscal year, that figure had grown to 81 percent.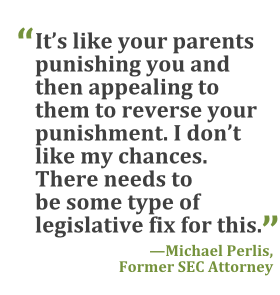 Defense lawyers complain the SEC system is unfair, particularly in complex cases. Compared with federal courts, deadlines are tight and defendants have fewer legal protections and less access to potential evidence. They see the system as biased in favor of the agency.
"Decades of fairness and reasonableness have been jettisoned for aggressiveness and a win-at-all-costs mindset," said Jacob Frenkel, a former SEC enforcement lawyer who now represents defendants.
Frenkel was one of the first to sue in federal court on behalf of a client trying to have his case heard there, rather than in the SEC. The case was settled before a ruling was made.
In another case, the SEC agreed in 2011 to drop an administrative action against Goldman Sachs Group Inc. director Rajat Gupta for passing insider tips and sued in federal court after he claimed the regulatory proceeding violated his rights. Gupta was also convicted after U.S. prosecutors brought charges.
Legislative Fix Needed
The SEC has beaten back other challenges to its in-house forum. Lynn Tilton, the so-called Diva of Distressed, failed in June to block an SEC case claiming she and her firm, Patriarch Partners, misled investors about the value of risky pools of corporate loans. Another Manhattan judge said Tilton had to go through the SEC's process before appealing to a federal court.
The five SEC judges are part of a much larger pool of almost 1,700 administrative judges working in 26 federal departments and agencies, including the National Labor Relations Board, the Federal Energy Regulatory Commission and the International Trade Commission, according to the Federal Administrative Law Judges Conference. By far the largest number, 1,449 as of last year, hear Social Security cases.
The SEC in-house watchdog is probing allegations that agency judges are biased. In an interim report released Friday, Inspector General Carl Hoecker told White that his office "has not developed any evidence to support" such claims.
Whatever changes might be in store, many defendants, and their lawyers, will almost certainly remain suspicious of the SEC court.
"It's like your parents punishing you and then appealing to them to reverse your punishment. I don't like my chances," said Michael Perlis, a former SEC attorney who is now a partner at Locke Lord LLP in Los Angeles. "There needs to be some type of legislative fix for this."
–With assistance from Dave Michaels in Washington.