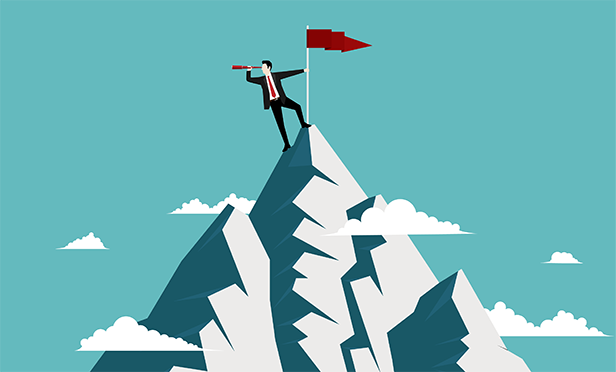 Every year, Treasury & Risk presents Alexander Hamilton Awards to recognize breakthroughs and outside-the-box thinking in several areas of corporate treasury and risk management. In some years, our panel of judges also recognize one company with an Overall Excellence Award because the quality of that organization's entries, across multiple categories, indicates a forward-thinking and truly innovative treasury culture.
For our 2019 award cycle, we are presenting the Alexander Hamilton Overall Excellence Award to Corning Incorporated.
Meg Waters, editor in chief of Treasury & Risk, recently sat down (virtually) with several leaders from the Corning treasury team: Steve Propper, vice president and corporate treasurer; Stephen Fowler, director of liquidity and investment management; Emily Simon, director of business risk management; Rick Vermillion, senior manager of foreign exchange (FX); and Donna Chapman, HR manager for the Corning finance function.
Our conversation reveals the myriad ways in which these leaders have cultivated a treasury culture that rewards outside-the-box thinking. It also highlights the results of this approach: open communication, free-flowing collaboration, regular accomplishment of stretch goals, and happy employees. We have edited the conversation for clarity and length.
Treasury & Risk: Congratulations on winning the 2019 Alexander Hamilton Overall Excellence Award!
Corning won the Gold Alexander Hamilton Award in Liquidity Management for an initiative that incorporated China into your global cash pool, and you won the Gold Alexander Hamilton Award in Financial Risk Management for an initiative that dramatically improved credit risk management.
What do those projects indicate about the culture of the treasury function at Corning?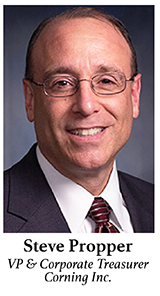 Steve Propper: As a company, Corning takes pride in being highly innovative. We spend about 8 percent of revenue on R&D [research and development], and we really focus on bringing innovation to our customers. Corning also has incredible recruiting programs. The business units look for the best scientists from different universities, and those individuals are attracted to Corning because of the opportunities to work on projects where they can see the fruits of their labors come to market and be implemented.
The treasury and finance teams have built on that mind-set. We're always striving to move our processes forward, to continue to protect the company's ability to make long-term investments in R&D. And we take a similar approach to recruiting: We look for people who want to learn, apply their learning, and be part of an innovative team.
Stephen Fowler: There are two other components of our treasury team's culture that encourage innovation. One is that we are willing to accept failure. Some companies say that but aren't entirely truthful. Maybe a better way of putting it is that, at Corning, if something we try doesn't come out exactly the way we wanted it to, we don't necessarily consider the effort to be a failure.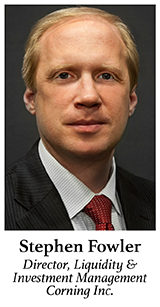 The result is that treasury staff don't fear that an initiative is going to have negative repercussions for them if it doesn't result in a home run. And that fosters engagement. It gives people a mind-set of wanting to be part of something that's new and different, not just the status quo. After all, following industry best practices just gets you to average. We're not particularly interested in being average.
And I think the other aspect of the treasury function that helps drive innovation is that we've actively worked to break down silos within treasury.
T&R: How do you convince staff members that it's actually OK to take those risks?
Steve Propper: Part of the reason folks aren't afraid of failure is because we always have good backup plans. We may encourage them to go for a stretch objective, and if it doesn't work, we'll have the plain vanilla best practice as a fallback. But what we've found is that oftentimes the stretch goals do work.
Also, like Stephen mentioned, we've removed the silos you sometimes see. Some treasury professionals are focused exclusively on driving improvements in their narrow area of expertise. But at Corning, the leadership team of Stephen, Emily, and Rick have set the tone for the department by working together very closely. As a result, if you walk around the halls, you'll often see treasury people having ad hoc conversations, helping each other with issues that may be outside their realm of day-to-day responsibility.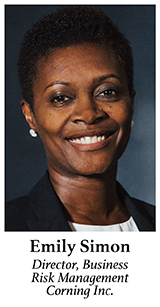 Emily Simon: That plays out through structured communication channels, as well—both one-on-one and across the team. We make sure that everyone is informed about all the different things that are happening in treasury. We have lunch-and-learns and other forums for sharing information about developments in different areas across treasury.
Along with that, we encourage staff to take on personal development projects throughout the year. So, for example, someone might start the year with the goal of learning to execute on a certain type of banking facility. They might accomplish this by researching the facility, then they might run a pilot project to test how the facility might play out. The goal is to be able to say, at the end of the year, 'Here's what I'm able to do now that I couldn't do at the beginning of the year.'
T&R: So, it sounds like ongoing professional development is fundamental to the Corning treasury culture.
Steve Propper: The purpose of these personal development projects is for everyone on staff to accomplish at least one thing every year that makes their resume stronger. When we first launched this, it made some people uncomfortable. But we think that the more marketable employees are, the more valuable they are to the team.
I don't want anybody to be on my team because this is their only choice. I want them to be here because they have lots of choices and they think Corning treasury is the best place for them.
T&R: Are the personal development projects always treasury-focused?
Steve Propper: Not necessarily. We might lend a staff member out to a business unit because he or she wants to know more about the businesses. Or we might have someone who learns [the programming language] Python. These projects have to align with the company's objectives—but, then again, a project won't be very impressive on your resume if it doesn't help the company.
This also ties in with another treasury initiative. Back when we were starting to develop this new culture, we set an aggressive target for cost savings across treasury. We placed an Excel spreadsheet on a shared drive where staff can log their savings successes. The management team makes sure each entry is appropriate and legitimate, and then people across treasury can see one another's contributions.
We have accomplished our savings goal, which some people thought was unrealistic at first. But what I'm most proud of is that every single person in treasury has contributed savings that we've included in that spreadsheet. We have 100 percent participation. And the fact that everybody has participated in helping us exceed our target has really built the team spirit within treasury.
T&R: Does that team spirit also contribute to innovation in Corning treasury?
Donna Chapman: It does, because another element of fostering innovation is mutual respect. When we recruit for the finance function and for treasury positions, we want to bring in the best and brightest, but we also look for people who are the right culture fit. They need to embrace the values of collaboration and innovation. They also need to understand that being part of a team requires respecting one another.
Corning headquarters is in a small town [Corning, New York], and people are going to get to know one another both inside and outside of work. They are going to build relationships, which helps strengthen the feeling that Corning is a safe place to share ideas and grow. A staff that feels safe and engaged is very powerful.
T&R: It sounds like you guys have taken a whole host of intentional steps to set the right tone at the top, in order to foster an innovative approach to treasury operations.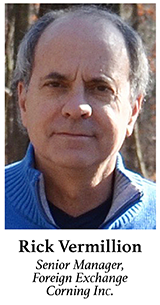 Rick Vermillion: A lot of that comes down to the direct actions of our treasurer. Steve has created an environment where we're all allowed to speak freely and to take chances, and his door is always open.
Steve Propper: I need the team to challenge me. When I'm wrong, I truly want them to tell me I'm wrong. Much better to hear it from them than from my board!
Rick Vermillion: And we enjoy doing it.
T&R: Is there a downside to encouraging outside-the-box thinking across the entire treasury team?
Emily Simon: That's actually something I wanted to touch on, to emphasize that there are guard rails to what we work on. Even as we're executing on new and innovative strategies and activities, we all understand that we need to tie in with our colleagues from tax, compliance, legal, and other areas of finance. We're innovative, but within the strictures that we've set up for ourselves.
Steve Propper: That's definitely true. In addition to being innovative, Corning is also very process-focused. As an engineering business, that's in our DNA as well.
A side effect of that is: One of the things we have been very focused on in treasury is driving transactional work out of our processes. We have shared-service centers in Corning, Budapest, and Shanghai that are very skilled at running processes. They have very tight controls and a lot of documentation. They also have a mind-set of continuous improvement. Because they do such a good job, we have moved a lot of the execution of treasury responsibilities into the shared-service centers. So, for example, treasury sets the strategy for cash management, selects banking partners, and that sort of thing, but shared services handles the day in, day out execution of the cash movement.
T&R: What advice would you have for a corporate treasurer who is in a more traditional organization but wants to start cultivating a culture of innovation?
Stephen Fowler: I'd point out that the shared-service approach Steve described frees up our time, in treasury, to be more thoughtful and more strategic. I think the first thing a treasurer needs to do to encourage innovation is free up mind capacity within the team to spend more time thinking about projects that are innovative.
Steve Propper: I would add one more thing. When people ask me for career advice, I tell them they should look for two things in a role: 'Do you think you're going to learn? And do you think you're going to have fun?' If you have those two things, then you have a great job. And that's the same advice I'd give this hypothetical treasurer. I want to populate my treasury team with people who want to be here, who are interested in learning, and who will have fun in our organization. When the staff meet those criteria, an awful lot of other things become a whole lot easier.
T&R: One thing we haven't talked about is technology.
Steve Propper: That's true. When you talk about innovation, the first thing that jumps to a lot of people's minds is: 'I have to invest in new systems to make this happen.' We've accomplished the culture shift we've described here with mostly the same systems we had in place five years ago. We have optimized our use of technology and improved workflows. But it's a mistake to think that you have to have the best systems in the world to make progress, or that getting a new system is going to solve all your problems.
T&R: So, building an innovative culture is more about communication and collaboration and process than about having a specific piece of technology.
Stephen Fowler: Yes, and also clarity of purpose. A lot of what we've done involves going back to basics, using building blocks that are available to everyone. But we've combined them in different ways that are well-attuned to Corning's specific needs.
That's one of the great things about treasury: The answers may be different in every company, but the basic building blocks are really accessible to all.